A flexible solution for carrying supply air and extract air around the dwelling.
The tubes are developed especially for ventilation systems and they can be mounted in different building components such as:
In the insulation
In the ceiling or in concrete floors
Above a drop ceiling
Underneath floors with sufficient space for running the tubes
The tubes have many advantages compared to traditional solutions using spiral ducts. The installation takes less time and requires no specialist tools such as an angle grinder. The tubes are easy to mount even in small spaces.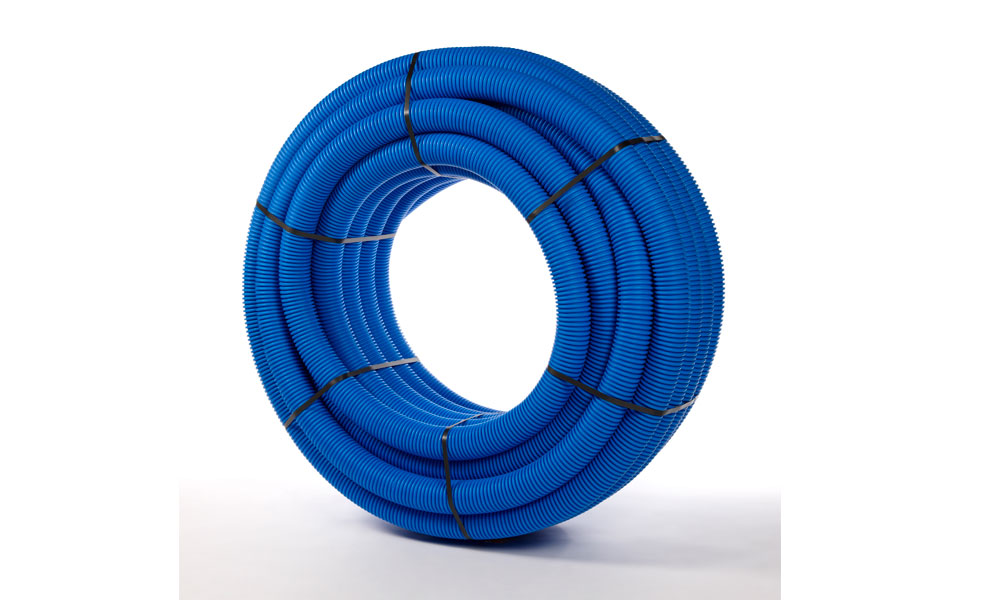 Smooth inside - minimises resistance and makes it easy to keep clean
Reinforced wavy exterior (STIS > 12,0 kN/m2 iht. EN ISO 9969 SN12)
Flexible - no T-pieces or bends are required
Sound absorbing - no need to install sound dampers between all the rooms*
*The sound transmission is reduced with more than 50 dB at an octave band center frequency of 1000 Hz.
Tested i.a.w. ISO 3741 og EN ISO 9614-1 (HTA Luzern - Prüfbericht Nr: HP-04389)
Material: Pure PE-HD
PE is classified as harmless to health I.a.w. 1999/45/EG, the tubes contain no harmful substances.
Fire classification: E-d2
Sizes: Ø75 mm and Ø90 mm (sold in lengths of 50 m)
Shows the pressure loss per metre tube at the air volume carried through the tube.

Blue curve: Ø75 mm tube

Green curve: Ø90 mm tube
Thanks to the unique and patented NilAIR click system, all the tubes in the air distribution system can be mounted without tools. This is possible because of the special design of the connection connectors on the manifold, extract air and supply air boxes.
The connectors have been made to fit both Ø75 mm and Ø90 mm tubes.
Mounting NilAIR tube Ø75 mm
The connectors are equipped with round clamps. When the tube has been pushed in and is locked into place by the small hooks on the connectors (A), the round clamp (B) is pushed into place. This creates a stable and tight joint.
Mounting NilAIR tube Ø90 mm
A silicone joint is applied inside the connector before the tube is pushed into place. The tube is locked into place by the small hooks on the connector, and the hooks are then fastened with a cable strip. This ensures a stable and tight joint.