Comfort 600 is an energy efficient ventilation unit for small commercial buildings or central ventilation of apartments.
The unit is often placed in a machine room, but because it is well insulated, you can also install it in an unused loft.

Airflow (see planning data for SEL/SFP values)
Min : 200 m3/h
Max : 800 m3/h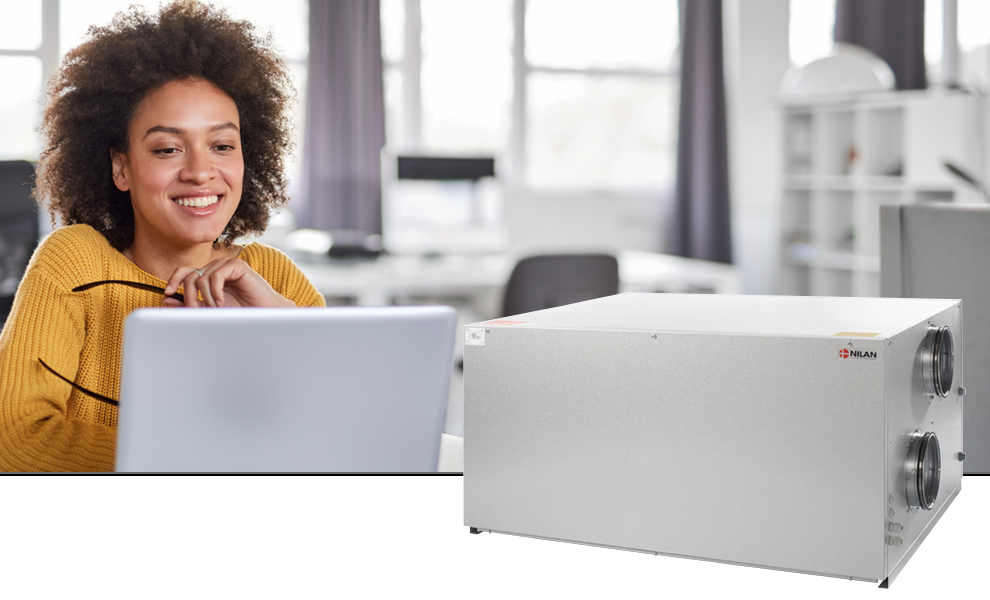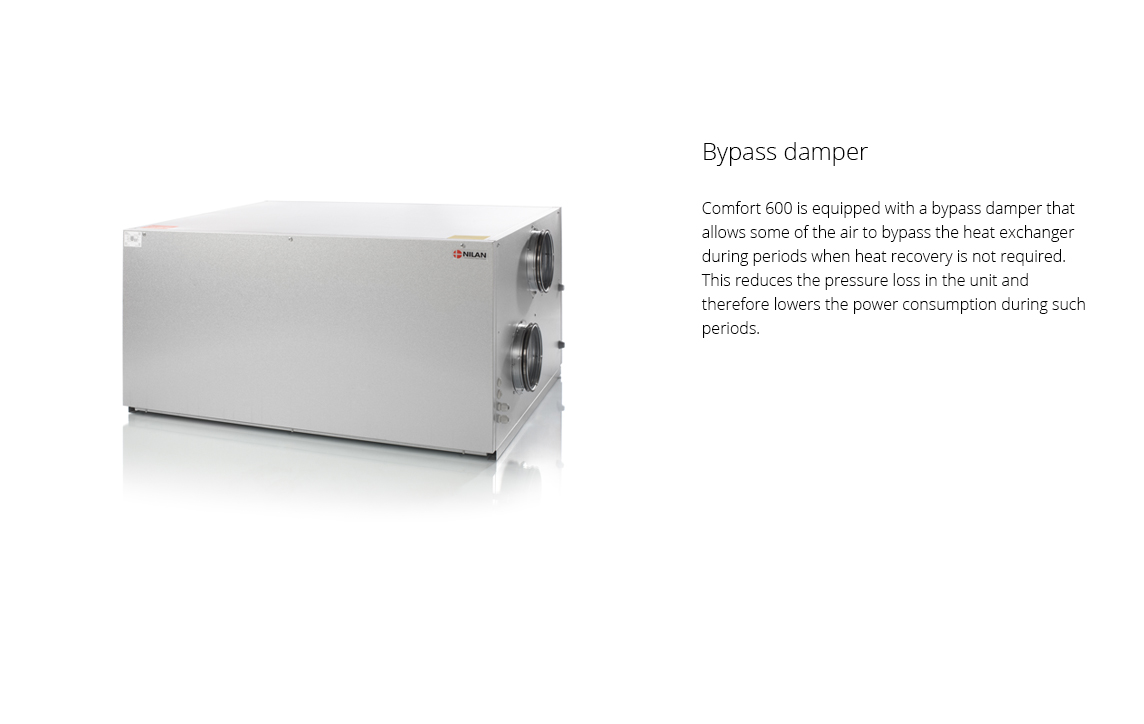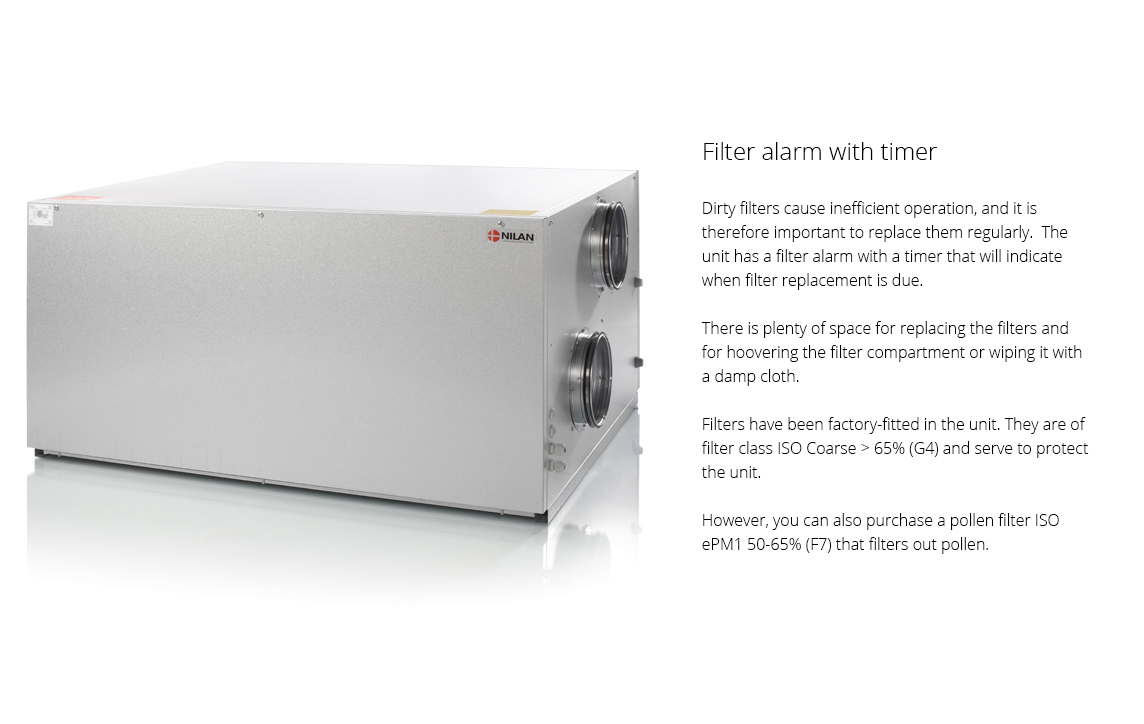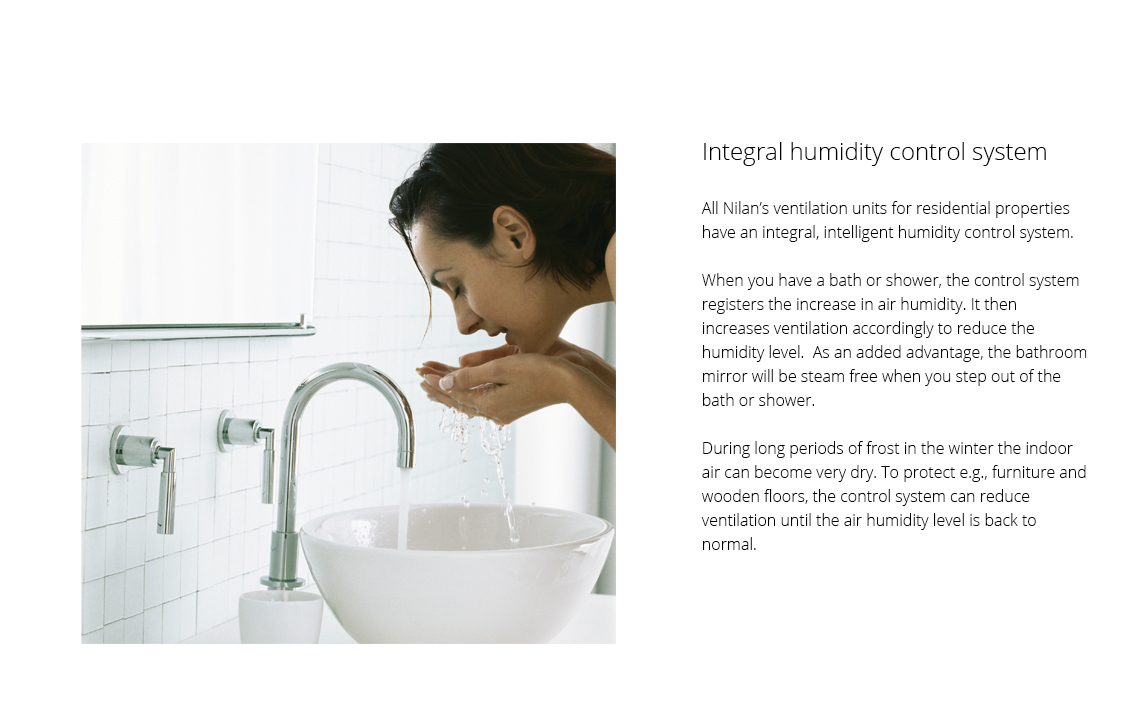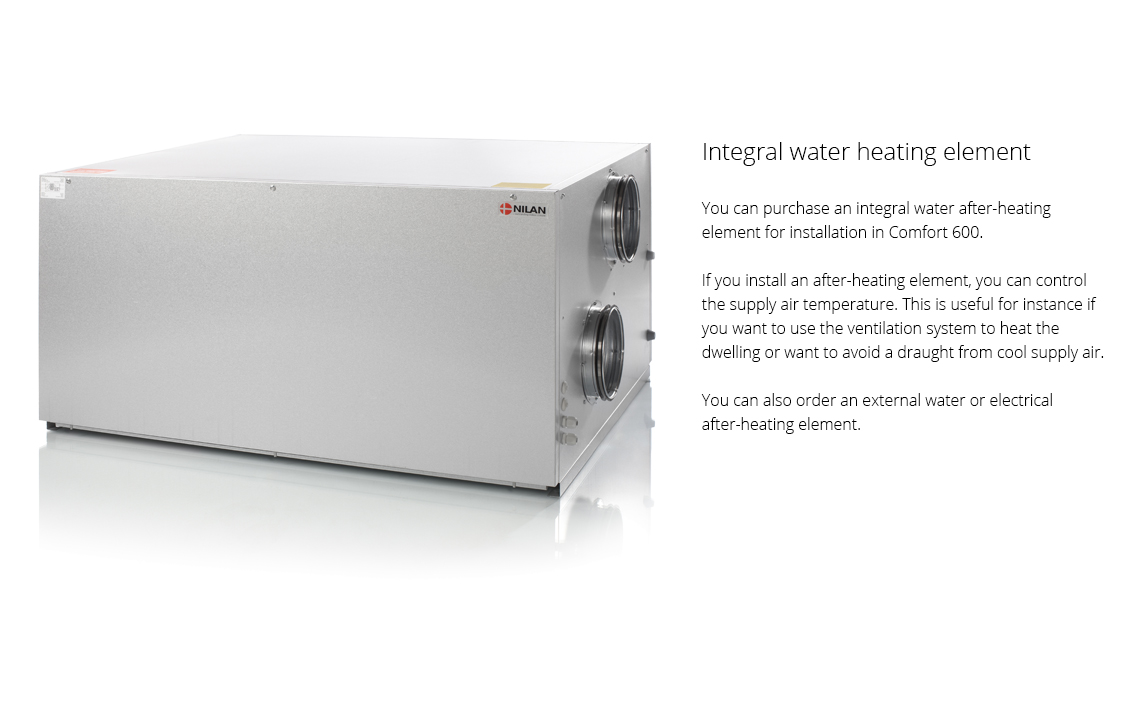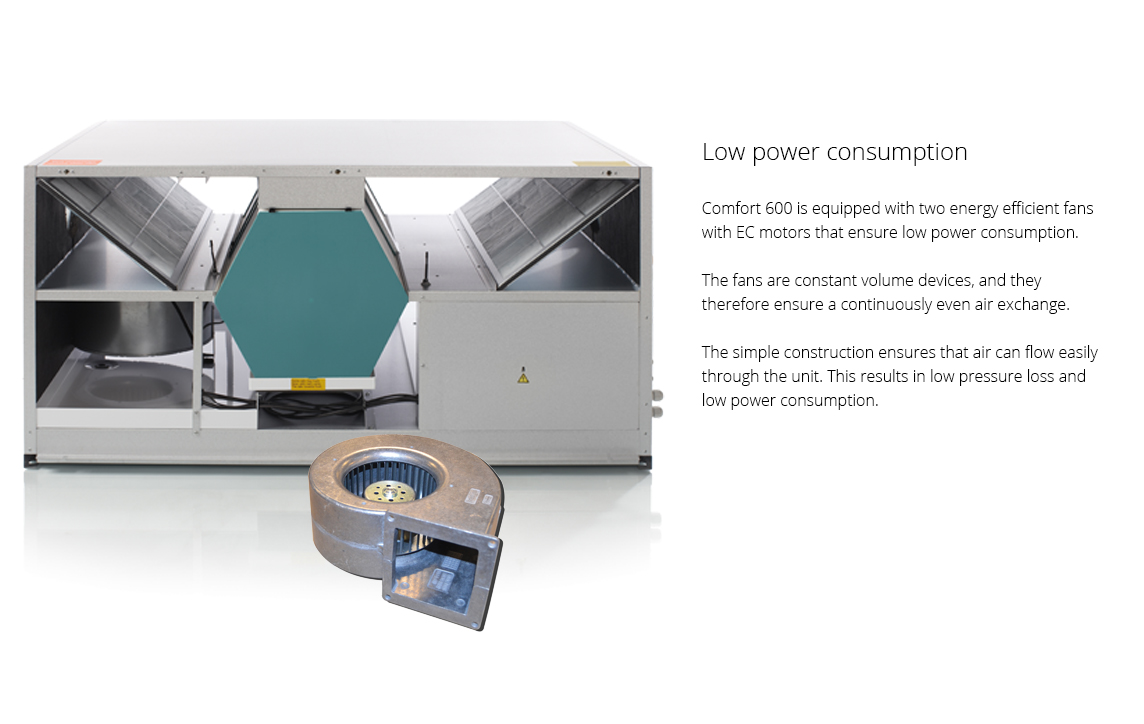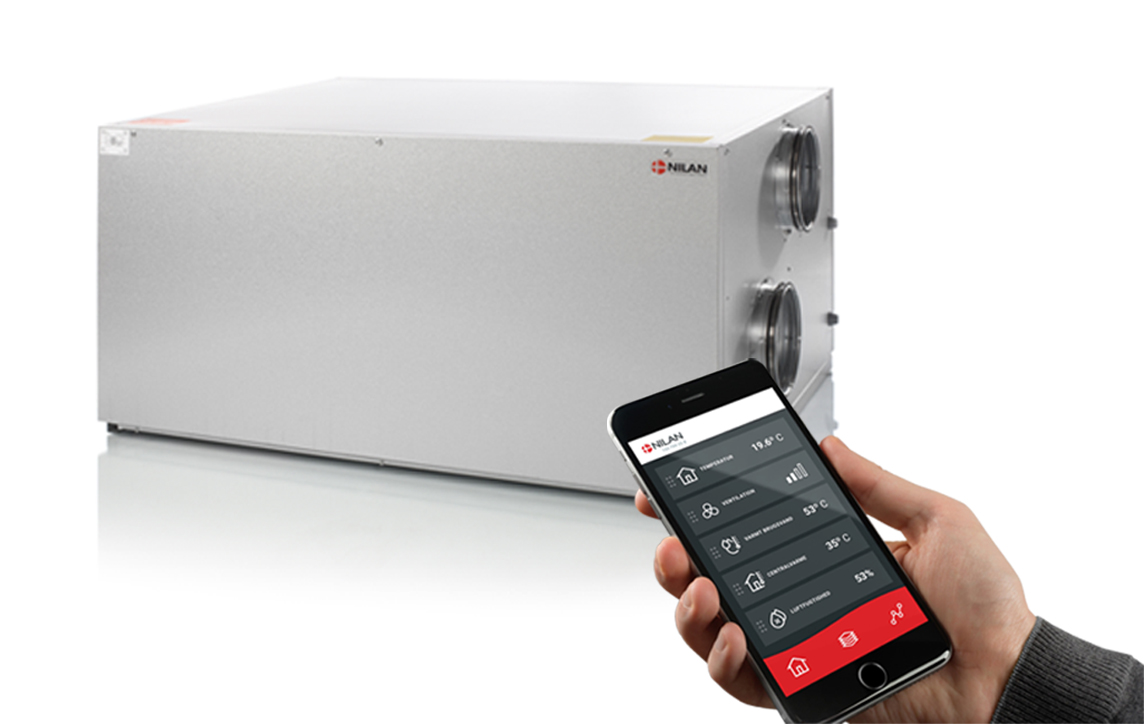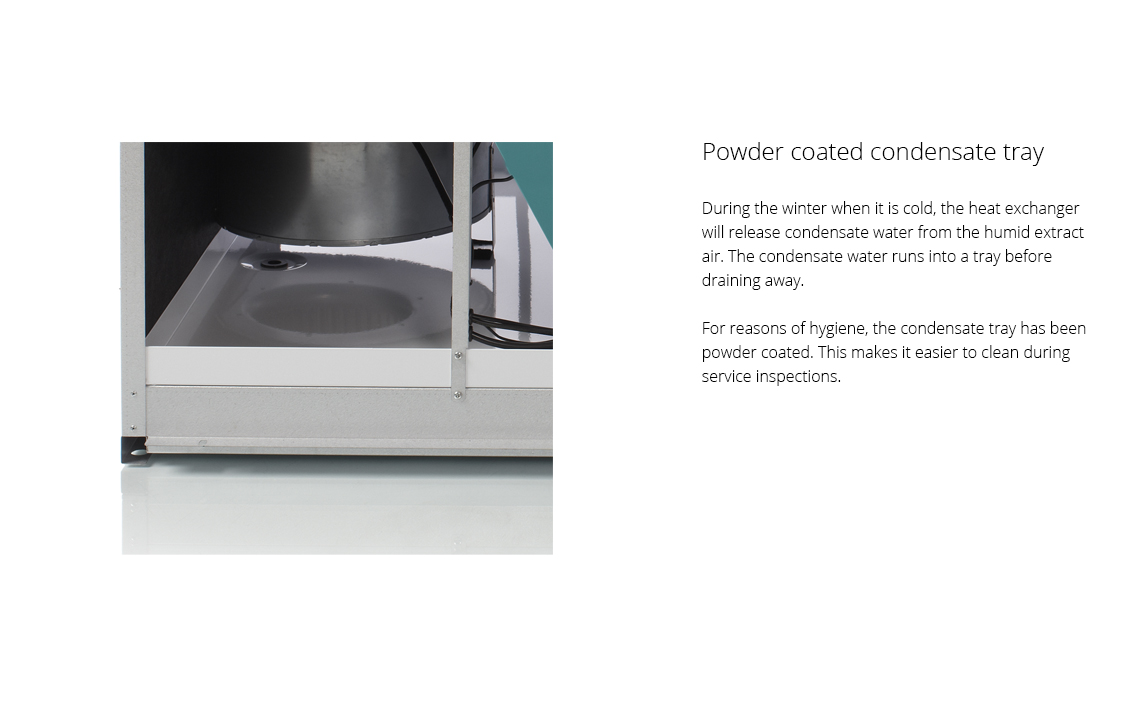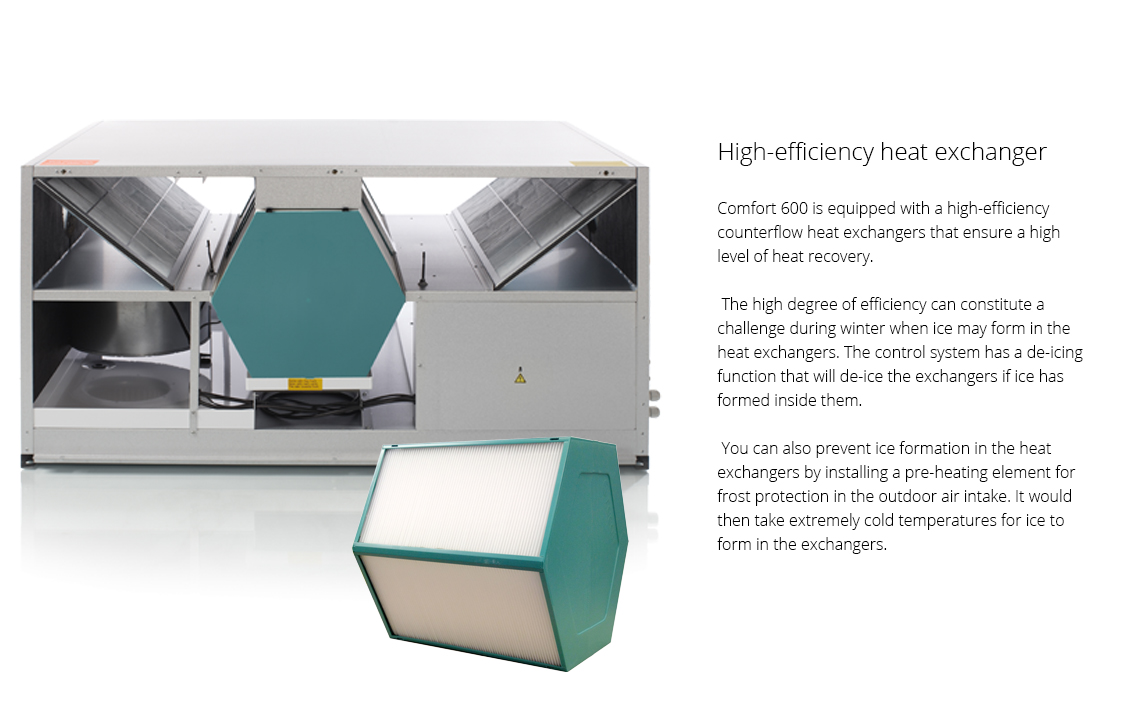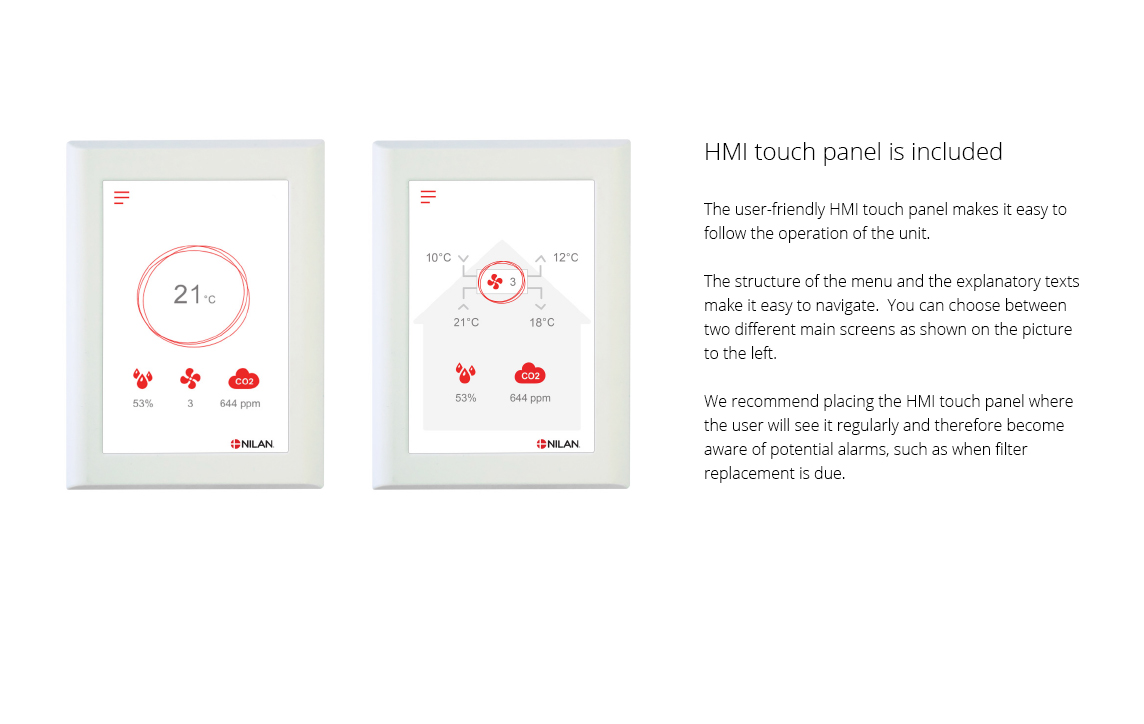 | | |
| --- | --- |
| Dimensions (W x D x H) | 1200 x 950 x 630 mm |
| Weight | 101 / 75 kg (*1) |
| Plate type casing | Aluzinc steel plate |
| Heat exchanger type | Polyethylenterephthalat counterflow heat exchanger |
| Fan type | EC, constant volume |
| Filter class | Greencycle ISO Coarse > 75% (G4) |
| Duct connections | Ø 200 mm |
| Condensate drain | PVC Ø 20 x 1,5 mm |
| Supply voltage | 230V 50/60 Hz |
| Max. input/power | 1030 W / 4,5 A |
| Standby power | 4 W |
| Tightness class | IP31 |
| Ambient temperature | -20 / +40 °C |
| Leakage classification | A1 (*2) |
| Heat loss | W/m2K (*3) |
| Heat loss classification | T2 |

*1 - 75 kg is without side plates and exchanger
*2 - Testet according to EN13141-7 (250 Pa)
*3 - Testet according to EN1886
Capacity

Capacity of standard unit as a function of qv and Pt ext

SEL values according to EN 13141-7 are for standard units with ISO Coarse >75% (G4) filters and without heating element.

SEL values comprise the unit´s total power comsumption incl. control.

Conversion factor: J/m3 : 3600 = W/m3/h

Attention! The SEL values are measured and stated as a total value for both fans.

Temperature efficiency

Temperature efficiency for units with counterflow heat exchanger according to EN308 (dry).

Temperature efficiency EN308: ɳt = (tsupply air-tfresh air)/(textract air-tfresh air)

Sound data

Sound data for qv = 600 m3/h and Pt ext = 100 Pa according to EN 9614-2 for surfaces and EN 5136 for ducts.

Sound output level LWA drops with falling air volume and falling back pressure.

Sound output level LpA at a given distance will depend on acoustic conditions in the place of installation.
Dimensional drawing Comfort 600 (Right version):

Dimensional drawing Comfort 600 (Left version):

All dimensions are in mm.
Connections
1: Fresh air
2: Supply air
3: Extract air
4: Discharge air
5: Condensate drain
6: Electric and water heating
7: Primary side (heat exchanger)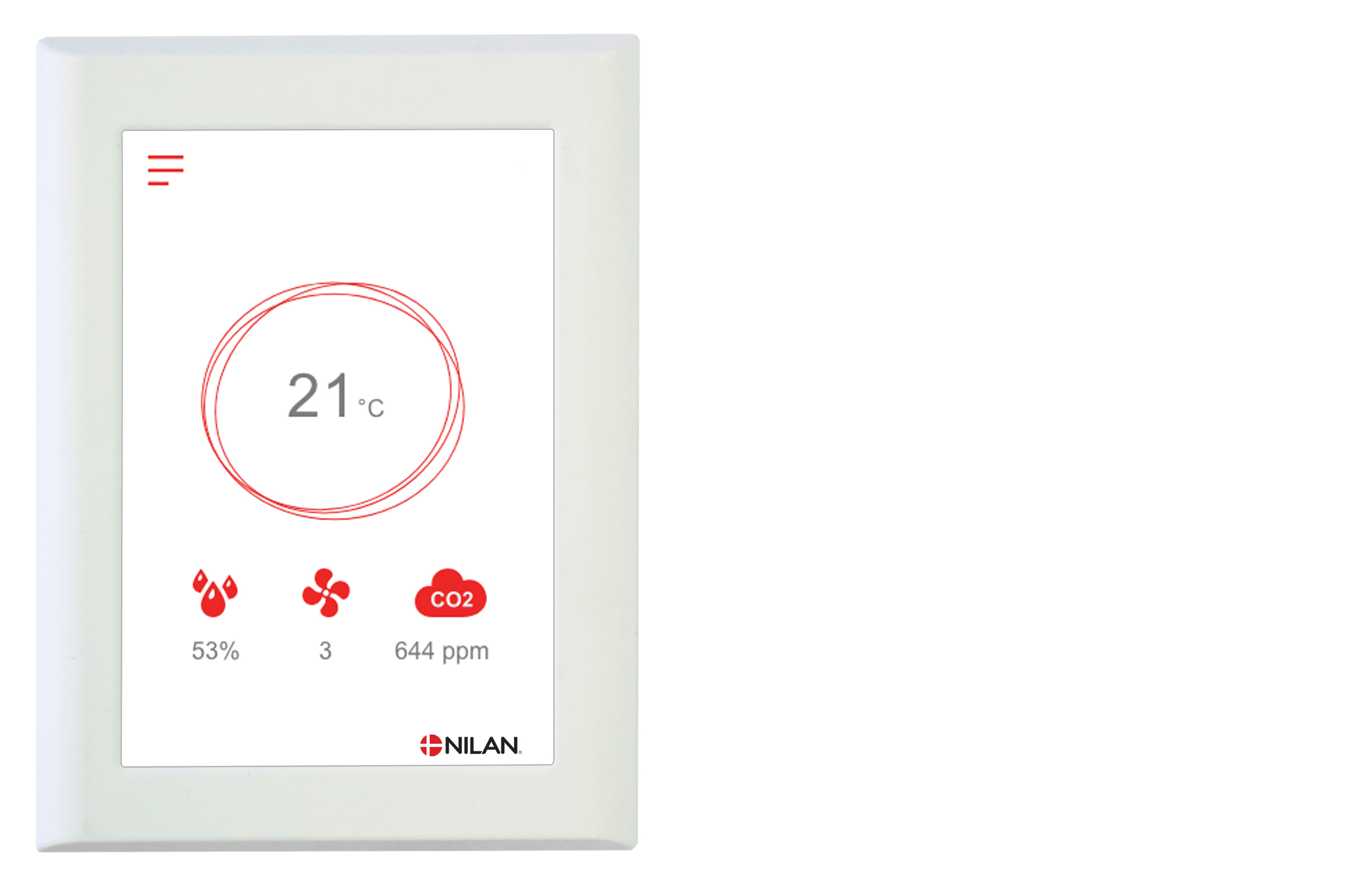 The CTS602 control system is an advanced control system with many settings options. The control system is supplied with factory default settings that can be adapted to the operational requirements in order to achieve best possible operation and utilisation of the unit.
The HMI Touch panel provides an overview of the current operation of the unit, and the structure of its menu makes it easy to navigate for both user and installer.
External communication
The CTS602 control system has an open Modbus RS485 protocol that can be used for communication via external CTS systems.
Functions overview
+Standard
-Accessories
Alarms
Description of errors indicated with alarms. Alarm log displaying the latest 16 alarms.
+
Joint alarm
The CTS602 control system has an output signal that is activated in the case of an alarm. It can be connected to, for example, external automation.
Filter monitor
Filter alarm with timer that can be set to 30/90/180/360 days.
+
Data display
An overview of the current operation with regards to temperatures, fan speed level etc.
+
Week program
The CTS602 control system has 3 week programs that can be set individually (the default setting is "off").
+
Humidity control system
Enables a higher or lower degree of ventilation at a high/low level of humidity.
+
Air quality
Enables you to adjust the degree of ventilation depending on the CO2 level in the air.
-
Winter low
You can prevent a low level of humidity in the dwelling by activating low ventilation at low outdoor temperatures.
+
Temperature regulation
Enables you to control the operation of the unit in accordance with the room temperature.
+
Summer/winter mode
You can set the unit to operate in summer or winter mode.
Language
You can choose from more than 10 languages in the control panel.
+
User levels
The menu in the control panel is divided into 3 user levels: User/Installer/Factory.
+
User selection 1
Enables you to override the operating mode via an external potential free signal.
+
User selection 2
Enables you to override the operating mode as well as user selection 1 via an external potential free signal.
-
Electrical after-heating element
An electrical after-heating element allows you to control the supply air temperature. In this way the unit can help heat the dwelling.
-
Water after-heating element
A water after-heating element allows you to control the supply air temperature. In this way the unit can help heat the dwelling.
-
Frost protection
In order to protect a potential water after-heating element against frost damage, the unit will stop and display an alarm if the temperature in the water after-heating element becomes too low.
-
Air exchange
Stepless setting of four fan speed levels. The supply air and the extract air can be set individually.
+
De-icing
Based on temperature, this automatic function de-ices the counterflow heat exchanger if ice has formed within it.
+
Room low
Safety function that will cause the ventilation unit to stop if the heating system for the dwelling fails. This will prevent the unit from cooling the dwelling even further.
+
External heating
The ventilation unit can control an external heat supply in accordance with the current room temperature.
+
External fire automation system
You can connect the ventilation unit to an external fire automation system or to a fire thermostat. This will signal to the unit whether to stop or continue operation.
+
Integral fire automation system
The ventilation unit is available with an integral fire automation system that can control fire and smoke dampers.
-
Pressure sustaining regulator
You can install a pressure sustaining regulator on the side of both the extract air and the supply air.
-
Delayed start-up
You can activate a delayed start-up of the fans if you install, for instance, a shut-off damper.
+
Restore settings
You can save the current settings and subsequently restore them if, for instance, the user has altered the settings on the unit. You can also reinstall the default settings.
+
Manual operation
Different functions can be tested manually.
+
Energy saving function
You can activate a power saving function of the operation.
+
Modbus
You can set the Modbus address of the unit. The default setting is 30.
+
Data logging
It is possible to log the operational data of the unit every 1 - 120 min. Alarms are logged when they occur.
+
Control panel
You can choose from 2 different images for the main screen.
+
You can find further information about all the functions in the Software and Installation instructions for the unit.
ATTENTION! When positioning the unit, you should always consider future services and maintenance. It is recommended that you leave a minimum of 60 cm of clear space in front of the unit.
It must be easy to replace filters and it must be possible to replace, for instance, fans and other components.
ATTENTION! The unit must be level to enable proper drainage from the condensate tray.

The unit makes little noise and produces only weak vibrations, but you should still take into account potential vibrations that can spread from the unit to individual building components. In order to separate the unit from its foundation, it is therefore recommended that you install vibration absorbers under the unit. There should be approx. 10 mm distance to other building components and to permanent fixtures.
Condensate drain
ATTENTION! You MUST install a water trap in connection with the condensate drain to ensure that condensate water can drain away. If you set up the unit outside the climate screen, it is important to use a heating cable to prevent the condensate drain from icing up. Frost protection of the unit is the installer's responsibility.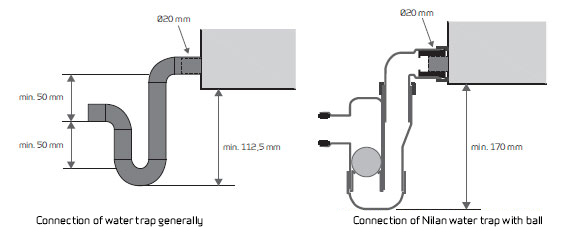 | | |
| --- | --- |
| Trade mark | Nilan |
| Model | Comfort 600 |
| Type | Two-way ventilation unit not for residential |
| Type of drive | Variable speed drive VSD |
| Type of heat recovery system | Counterflow heat exchanger |
| Thermal efficiency of heat recovery | 79,6% |
| Reference flow rate (supply air) | 0,1594 m3/s |
| Reference flow rate (extract air) | 0,1404 m3/s |
| Effective electric power input (kW) (supply air) | 0,209 kW |
| Effective electric power input (kW) (extract air) | 0,214 kW |
| SFPint | 413 W/(m3/s) |
| Velocity at design flow rate | 0,022 m/s |
| Nominal external pressure | 250 Pa |
| Internal pressure drop of ventilation components (supply air) | 123 Pa |
| Internal pressure drop of ventilation components (extract air) | 137 Pa |
| Static efficiency of fans (supply air) | 57,4 % |
| Static efficiency of fans (extract air) | 57,4 % |
| Maximum external leakage rate | 1,5 % v/400 Pa |
| Maximum internal leakage rate | 3,6 % v/250 Pa |
| Energy classification of M5 bag filters (extract air) | E |
| Energy classification of F7 bag filters (outdoor air) | C |
| Visuel filter warning | An alarm on the user panel appears when filters need changing |
| Sound power level (LWA) | 56 dB(A) |