Comfort 450 is an energy efficient ventilation unit with heat recovery for large dwellings or small commercial buildings.
The unit is available in both a right-facing and a left-facing model. It is well insulated and you can therefore install it outside the climate screen, for instance in an unused loft. That way, the unit does not have to take up space inside the building. If you place it in the loft, it is easy to block potential noise from the unit.
Comfort 450 is a unit that has been thoroughly tested. It has been produced for more than 15 years and it is updated frequently. Focus is on low power consumption, and the unit has therefore been given the excellent energy efficiency rating, A.

Airflow (see planning data for SEL/SFP values)
Min : 250 m3/h
Max : 525 m3/h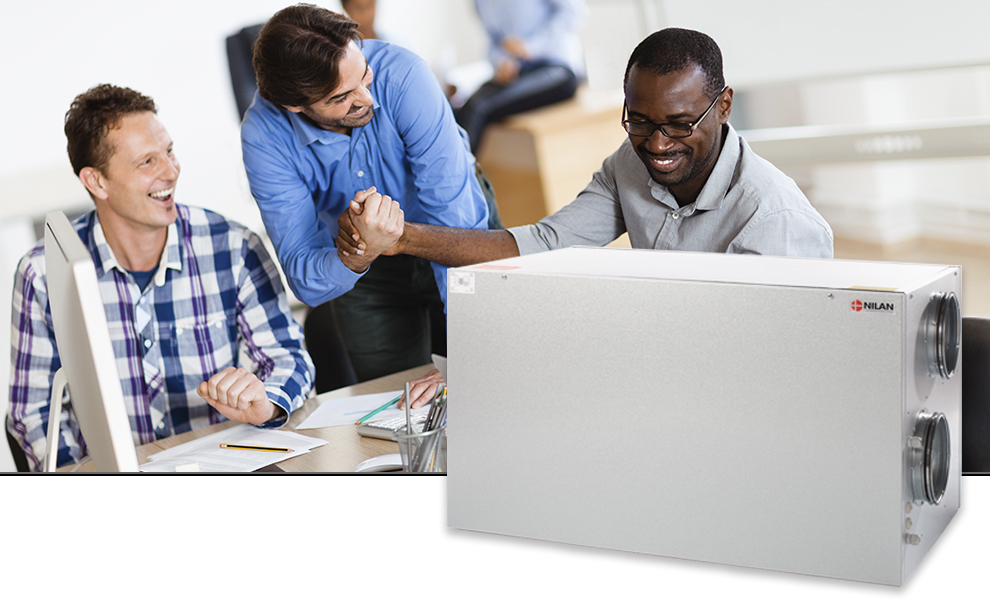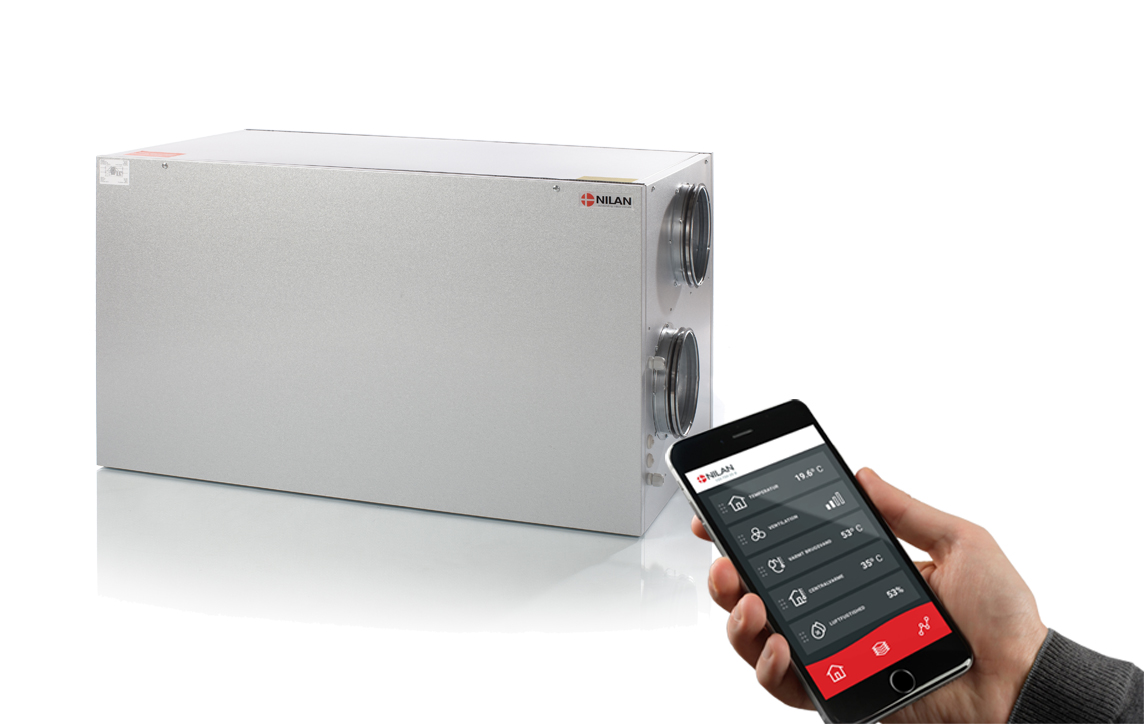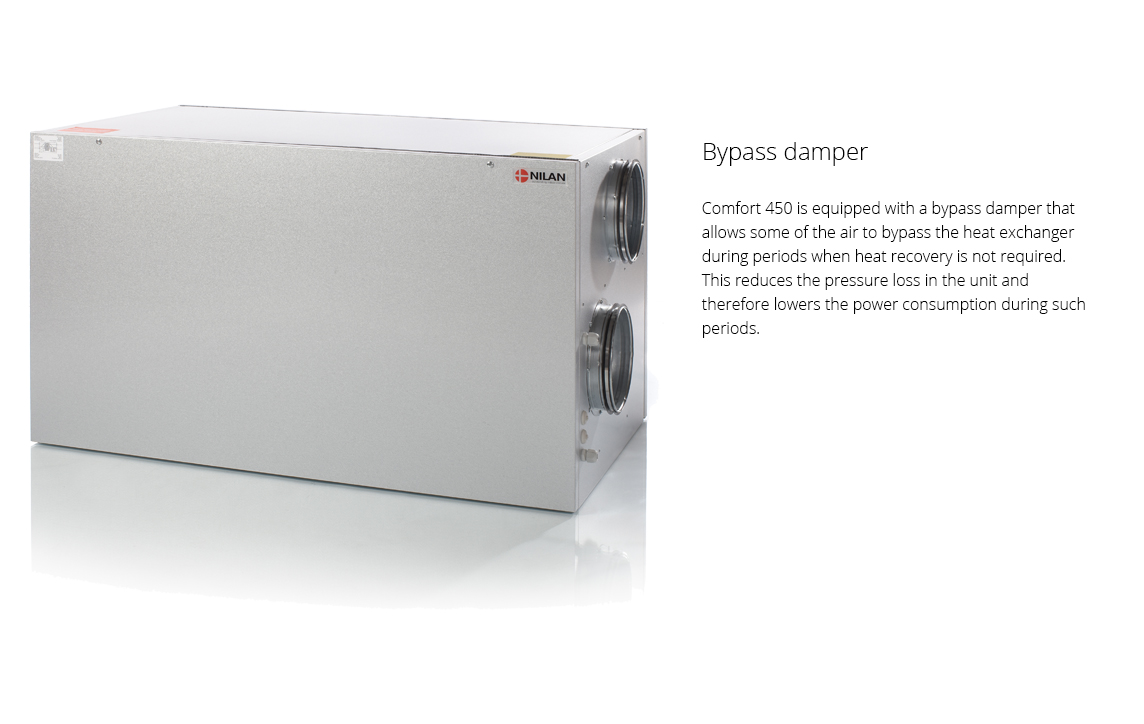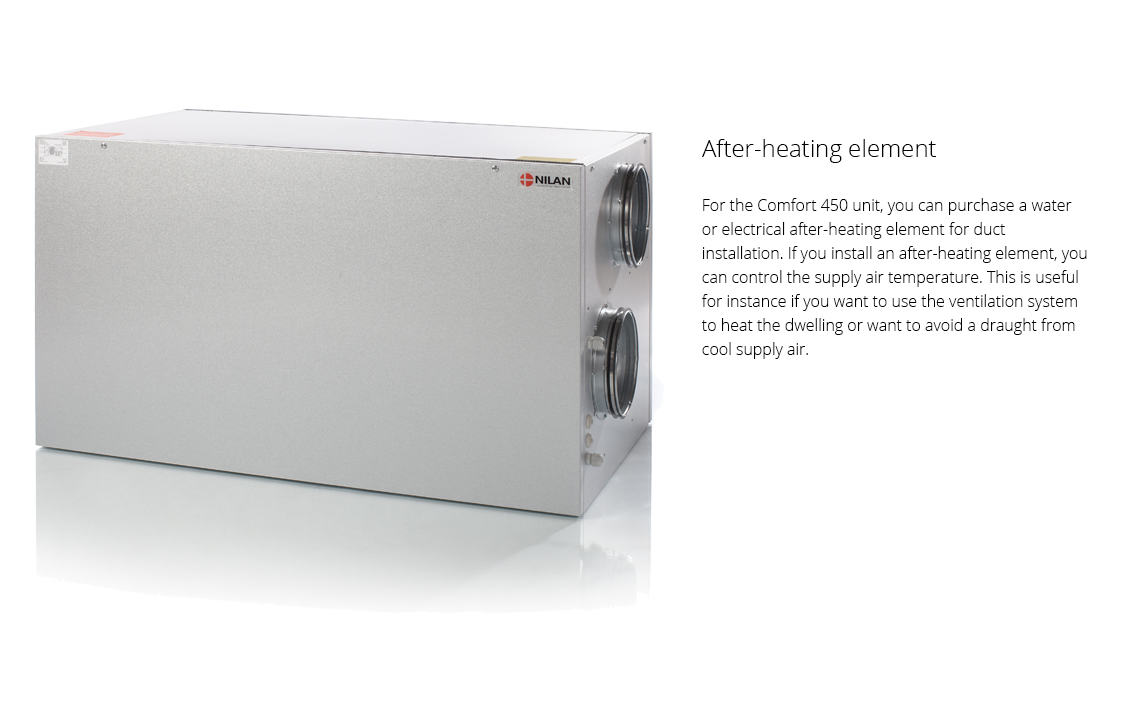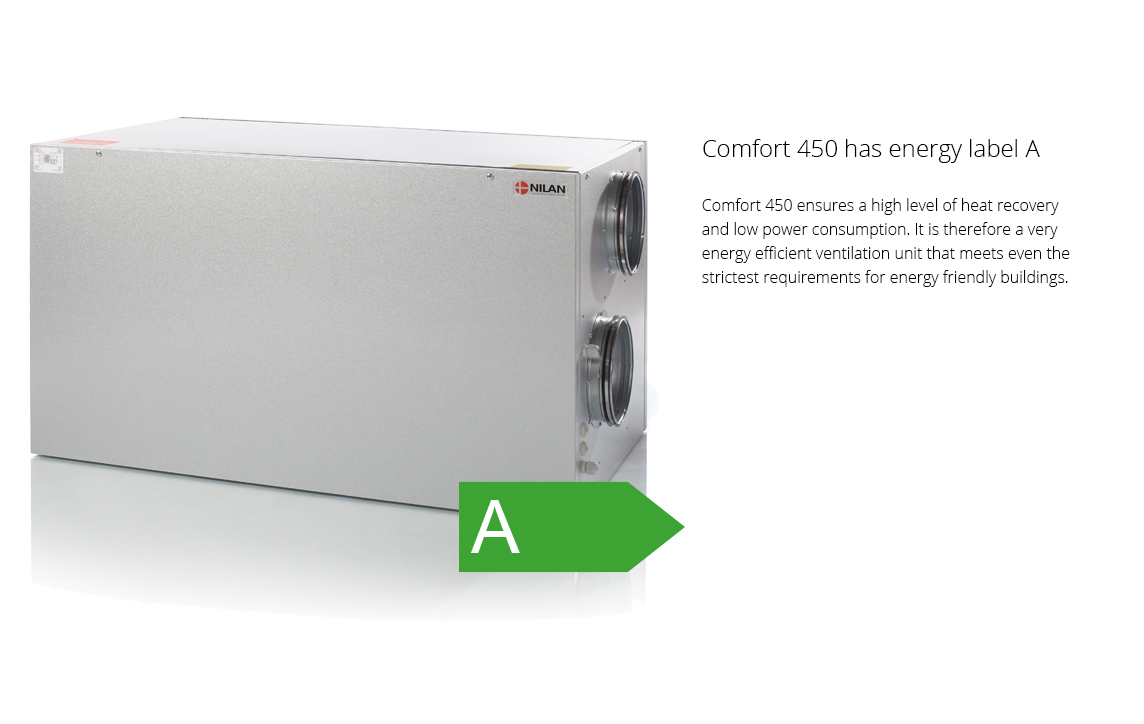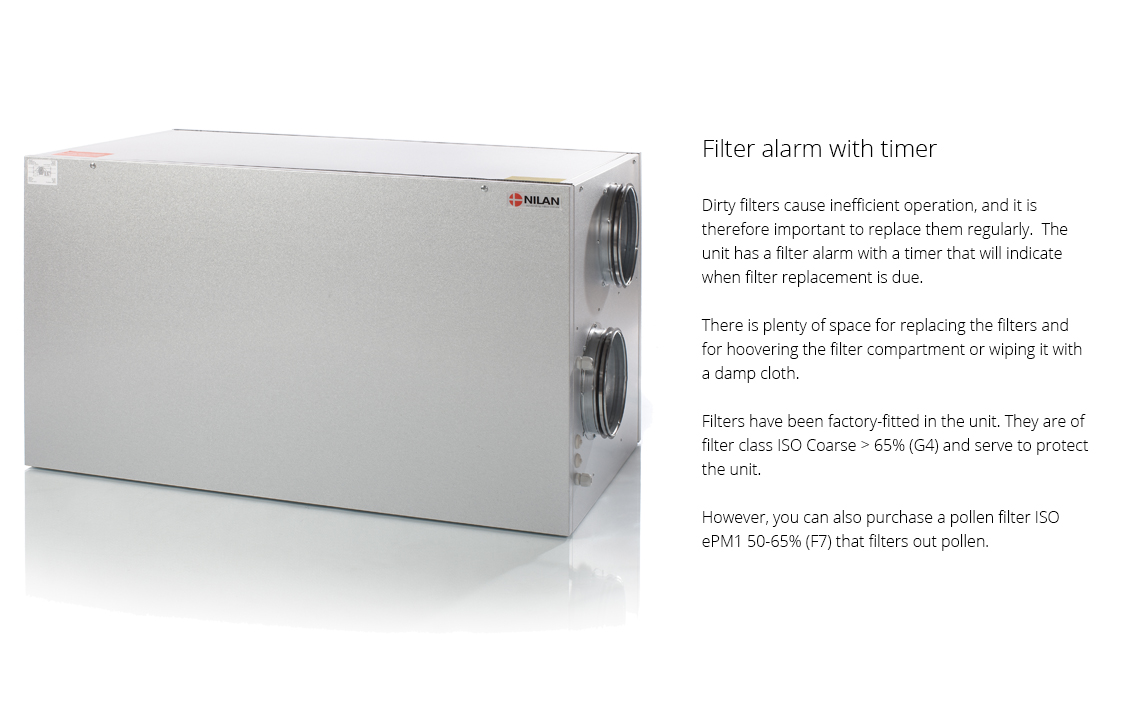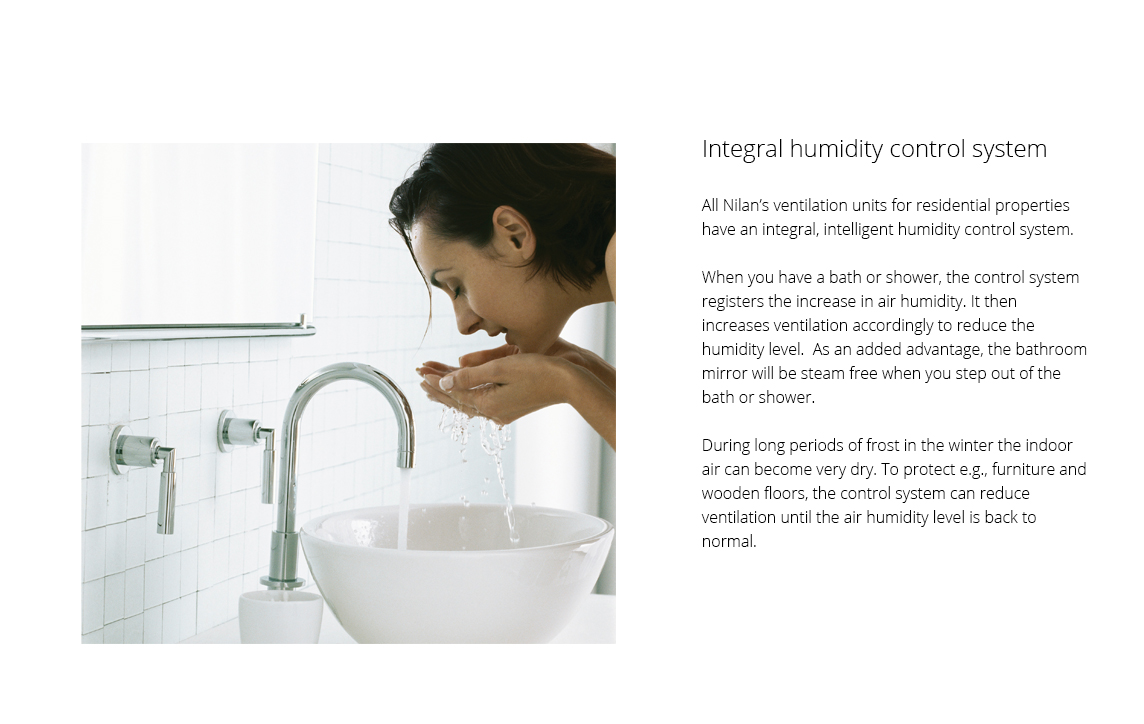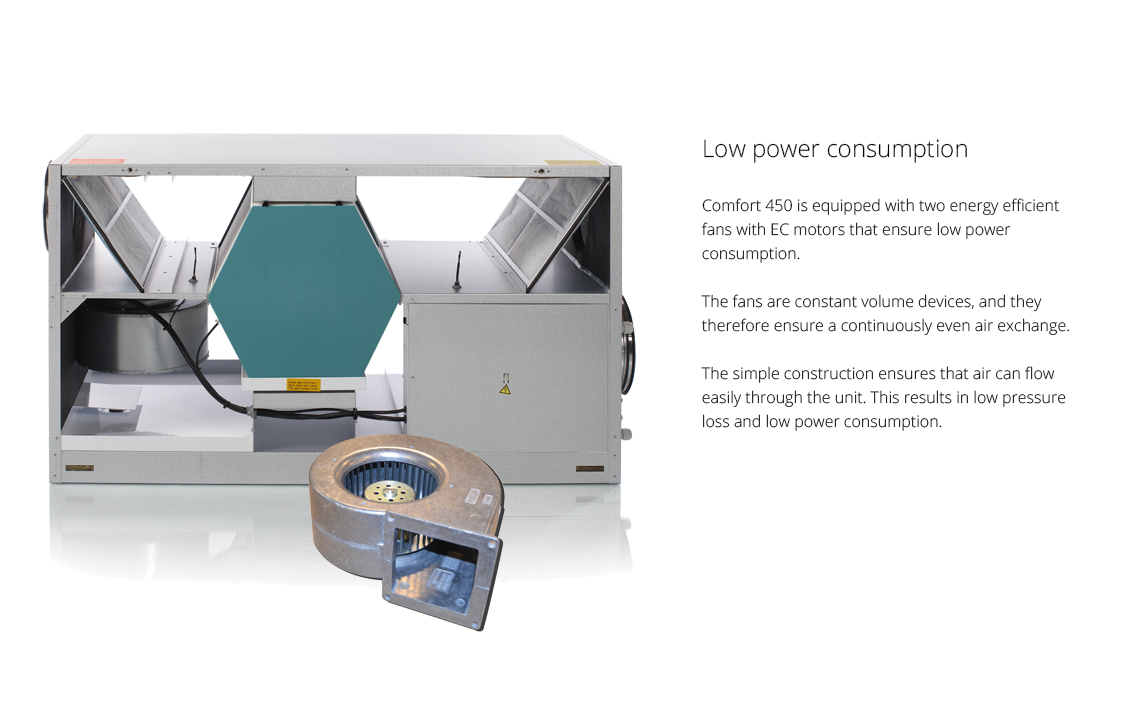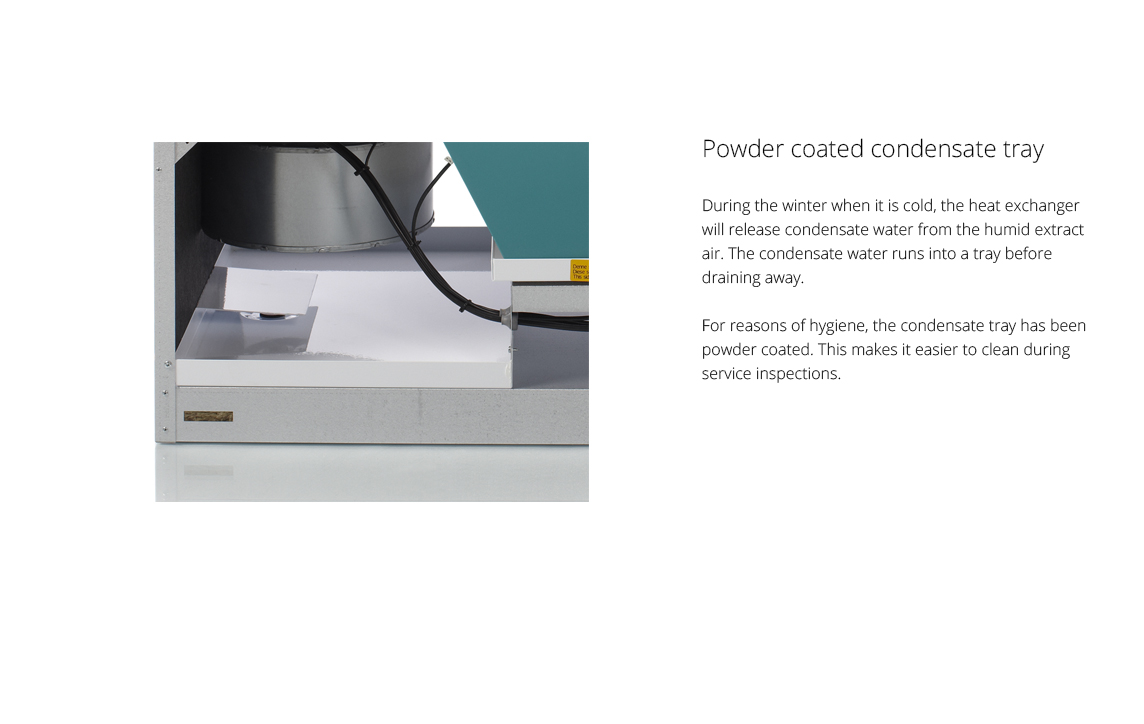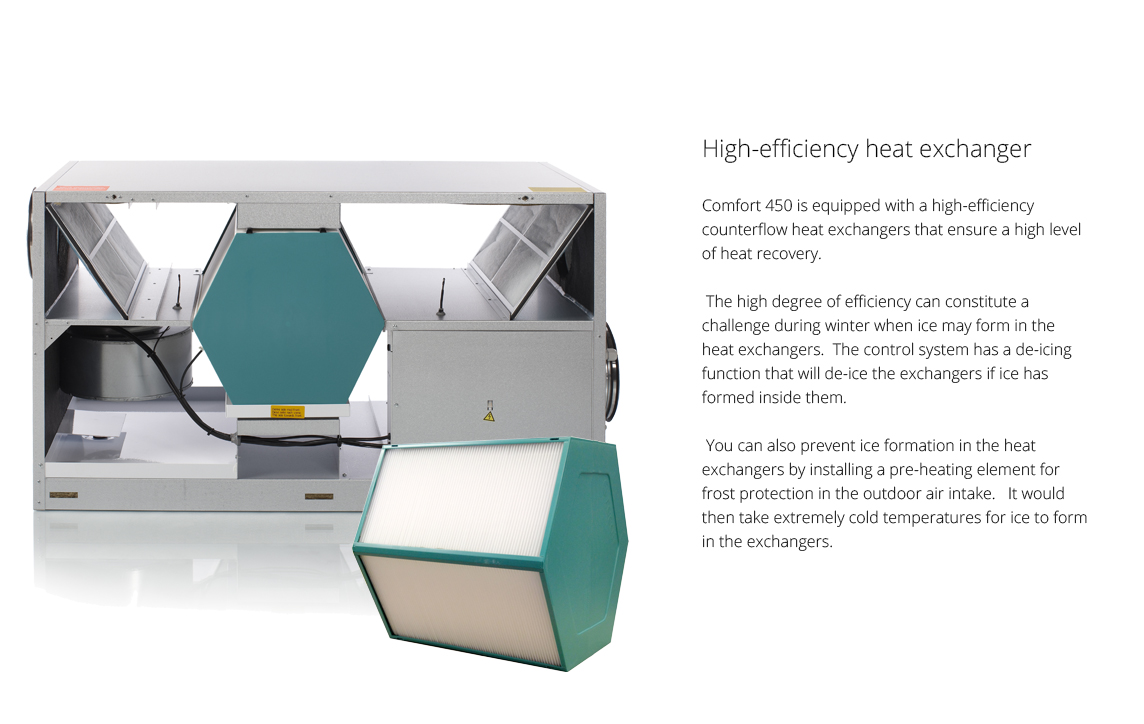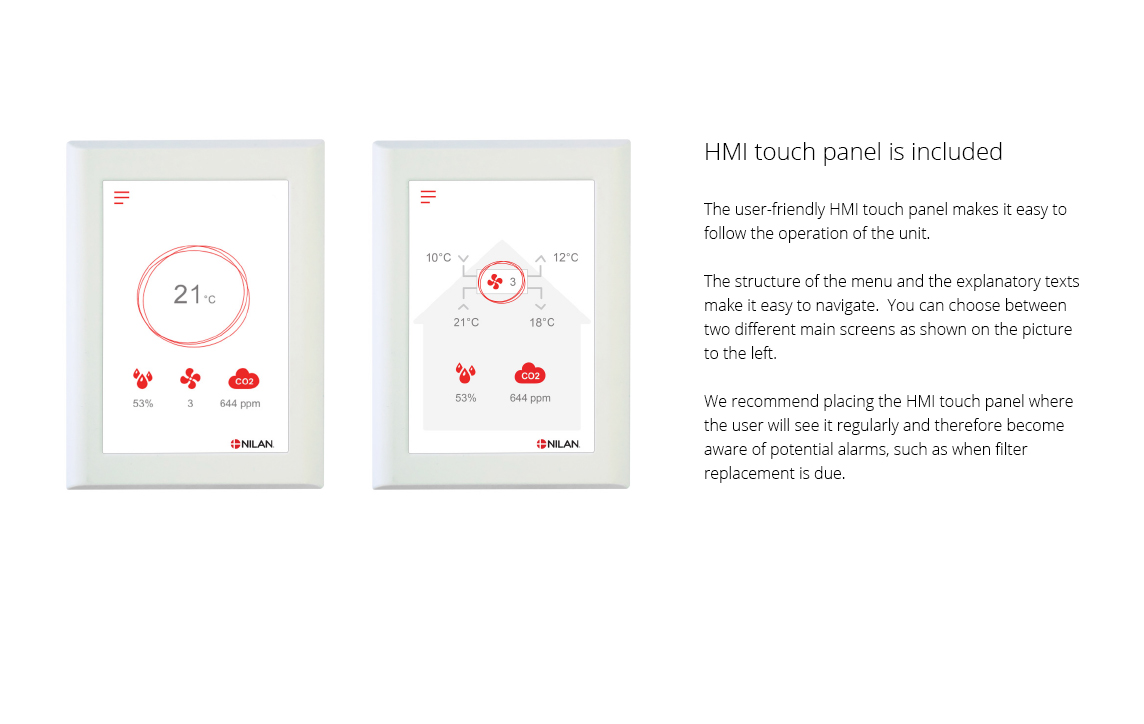 Nilan App - Control the ventilation and heat pump directly from the mobile phone
Nilan has developed an App with great features where the user can control the ventilation and heat pump directly from the mobile phone. The App is intuitive, easy and safe to use, and allows the user to e.g. set the room temperature. More ventilation units can be connected using the same App to control the indoor climate in e.g. both the dwelling and the holiday home. More users can be connected the same App.

When purchasing a Nilan gateway, the user can access the unit via the Nilan App.
| | |
| --- | --- |
| Dimensions (W x D x H) | 1100 x 650 x 640 mm |
| Weight | 72 / 51,5 kg (*1) |
| Plate type casing | Aluzinc steel plate |
| Heat exchanger type | Polyethylenterephthalat counter flow heat exchanger |
| Fan type | EC, constant volume |
| Filter class | Greencycle ISO Coarse > 75% (G4) |
| Duct connections | Ø 200 mm |
| Condensate drain | PVC Ø 20 x 1,5 mm |
| Supply voltage | 230V 50/60 Hz |
| Max. input/power | 370 W / 2,9 A |
| Standby power | 4 W |
| Tightness class | IP31 |
| Ambient temperature | -20 / +40 °C |
| Leakage classification | A1 (*1) |
| Heat loss | 0,82 W/m2K (*2) |
| Heat loss classification | T2 |

*1 - 51,5 kg is without side plates and exchanger
*2 - Testet according to EN13141-7 (ved 250 Pa)
*2 - Testet according to EN1886
Capacity

Capacity of standard unit as a function of qv and Pt ext

SEL values according to EN 13141-7 are for standard units with ISO Coarse >75% (G4) filters and without heating element.

SEL values comprise the unit´s total power comsumption incl. control.

Attention! The SEL values are measured and stated as a total value for both fans.

Temperature efficiency

Temperature efficiency for units with counterflow heat exchanger according to EN13141-7 (dry).

Sound data

Sound data for qv = 300 m3/h and Pt ext = 100 Pa according to EN 9614-2 for surfaces and EN 5136 for ducts.

Sound output level LWA drops with falling air volume and falling back pressure.

Sound output level LpA at a given distance will depend on acoustic conditions in the place of installation.
You can download AutoCad or Revit drawings with BIM data on several Nilan ventilation and heat pump solutions - the list is constantly being expanded.
With BIM data, you get all the necessary technical data to draw and calculate Nilan constructions in 3D. Click here to get more about BIM data on Nilan units

Dimensional drawing Comfort 450 (Right version):

Dimensional drawing Comfort 450 (Left version):

All dimensions are in mm.
Connections:
1. Outdoor air
2. Supply air
3. Extract air
4. Discharge air
5. Condensate drain
6. Electrical connections
7. Water heating element connections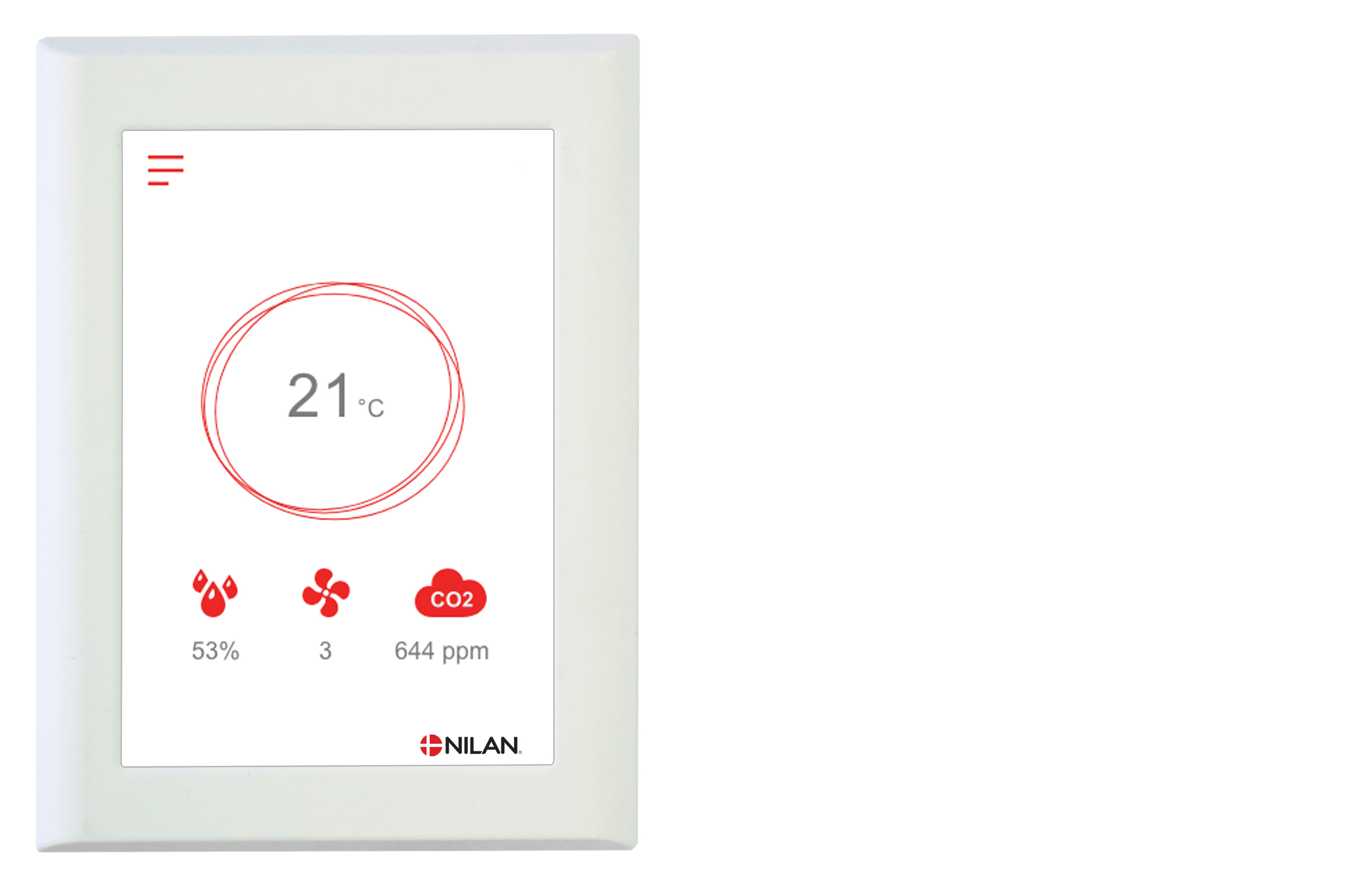 The CTS602 control system is an advanced control system with many settings options. The control system is supplied with factory default settings that can be adapted to the operational requirements in order to achieve best possible operation and utilisation of the unit.
The HMI Touch panel provides an overview of the current operation of the unit, and the structure of its menu makes it easy to navigate for both user and installer.
External communication
The CTS602 control system has an open Modbus RS485 protocol that can be used for communication via external CTS systems.
Functions overview
+Standard
-Accessories
Alarms
Description of errors indicated with alarms. Alarm log displaying the latest 16 alarms.
+
Joint alarm
The CTS602 control system has an output signal that is activated in the case of an alarm. It can be connected to, for example, external automation.
Filter monitor
Filter alarm with timer that can be set to 30/90/180/360 days.
+
Data display
An overview of the current operation with regards to temperatures, fan speed level etc.
+
Week program
The CTS602 control system has 3 week programs that can be set individually (the default setting is "off").
+
Humidity control system
Enables a higher or lower degree of ventilation at a high/low level of humidity.
+
Air quality
Enables you to adjust the degree of ventilation depending on the CO2 level in the air.
-
Winter low
You can prevent a low level of humidity in the dwelling by activating low ventilation at low outdoor temperatures.
+
Temperature regulation
Enables you to control the operation of the unit in accordance with the room temperature.
+
Summer/winter mode
You can set the unit to operate in summer or winter mode.
Language
You can choose from more than 10 languages in the control panel.
+
User levels
The menu in the control panel is divided into 3 user levels: User/Installer/Factory.
+
User selection 1
Enables you to override the operating mode via an external potential free signal.
+
User selection 2
Enables you to override the operating mode as well as user selection 1 via an external potential free signal.
-
Electrical after-heating element
An electrical after-heating element allows you to control the supply air temperature. In this way the unit can help heat the dwelling.
-
Water after-heating element
A water after-heating element allows you to control the supply air temperature. In this way the unit can help heat the dwelling.
-
Frost protection
In order to protect a potential water after-heating element against frost damage, the unit will stop and display an alarm if the temperature in the water after-heating element becomes too low.
-
Air exchange
Stepless setting of four fan speed levels. The supply air and the extract air can be set individually.
+
De-icing
Based on temperature, this automatic function de-ices the counterflow heat exchanger if ice has formed within it.
+
Room low
Safety function that will cause the ventilation unit to stop if the heating system for the dwelling fails. This will prevent the unit from cooling the dwelling even further.
+
External heating
The ventilation unit can control an external heat supply in accordance with the current room temperature.
+
External fire automation system
You can connect the ventilation unit to an external fire automation system or to a fire thermostat. This will signal to the unit whether to stop or continue operation.
+
Integral fire automation system
The ventilation unit is available with an integral fire automation system that can control fire and smoke dampers.
-
Pressure sustaining regulator
You can install a pressure sustaining regulator on the side of both the extract air and the supply air (applies to CTS602 control - not CTS602 light).
-
Delayed start-up
You can activate a delayed start-up of the fans if you install, for instance, a shut-off damper.
+
Restore settings
You can save the current settings and subsequently restore them if, for instance, the user has altered the settings on the unit. You can also reinstall the default settings.
+
Manual operation
Different functions can be tested manually.
+
Energy saving function
You can activate a power saving function of the operation.
+
Modbus
You can set the Modbus address of the unit. The default setting is 30.
+
Data logging
It is possible to log the operational data of the unit every 1 - 120 min. Alarms are logged when they occur.
+
Control panel
You can choose from 2 different images for the main screen.
+
You can find further information about all the functions in the Software and Installation instructions for the unit.
OBS! Ved opstilling af aggregatet bør der altid tages hensyn til fremtidig service og vedligehold. Der anbefales en minimum friplads foran aggregatet på 60 cm.
Det skal være let at udskifte filtre og f.eks. skal det være muligt at kunne tage veksleren ud, udskifte ventilator eller andre komponenter. Derfor anbefales det også at forbinde aggregatet med kanalsystemet via fleksible forbindelser.
OBS! Der er vigtigt, at aggregatet opstilles i vater for at opnå et ordentligt afløb fra kondensvandsbakken.
Aggregatet er støj- og vibrationssvag, men der bør alligevel tages højde for eventuelle vibrationer, der kan forplante sig fra aggregatet ud i de enkelte bygningsdele. For at skabe adskillelse mellem aggregat og underlag, anbefales det derfor at montere vibrationsdæmpere under aggregatet. Til øvrige bygningsdele og fast inventar bør der være ca. 10 mm afstand.
Kondensvandsafløb
OBS! Der skal etableres vandlås i forbindelse med kondensafløbet for at sikre, at kondensvandet kan bortledes. Opstilles aggregatet uden for klimaskærmen, er det vigtigt, at sikre kondensvandsafløbet mod tilisning med et varmekabel. Det er installatørens ansvar at frostsikre afløbet.