VP 18 M2 is an efficient heat recovery unit that can ventilate a dwelling with up to 425 m3/h. The unit is typically used in single-family dwellings. In addition to ventilation and heating of the supply air, it provides guaranteed optimal heating of domestic hot water in the dwelling.
VP 18 M2 is a very compact unit that takes up no more space than an ordinary tall cabinet.

Airflow (see planning data for SEL/SFP values)
Min : 100 m3/h
Max : 425 m3/h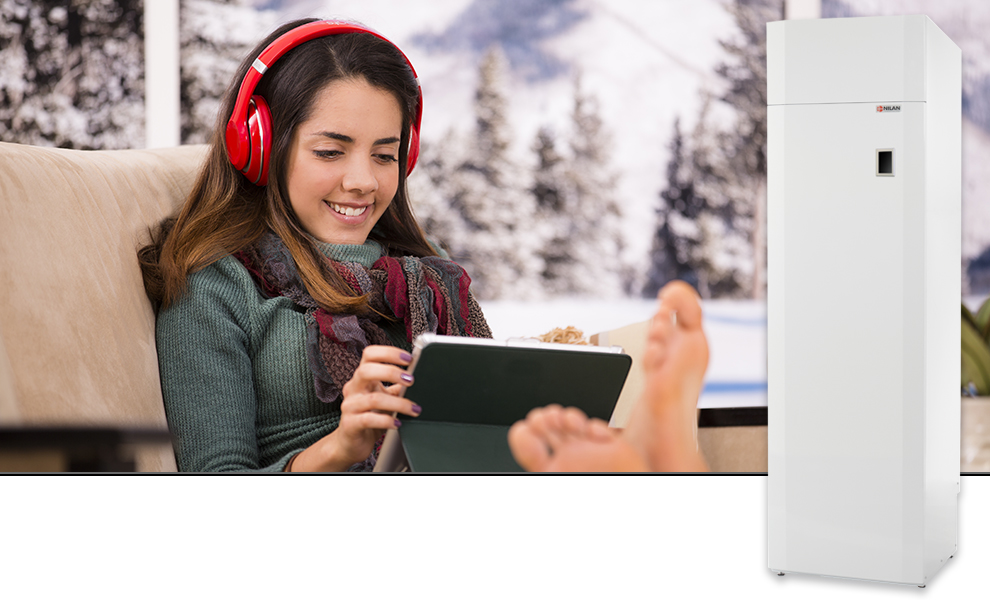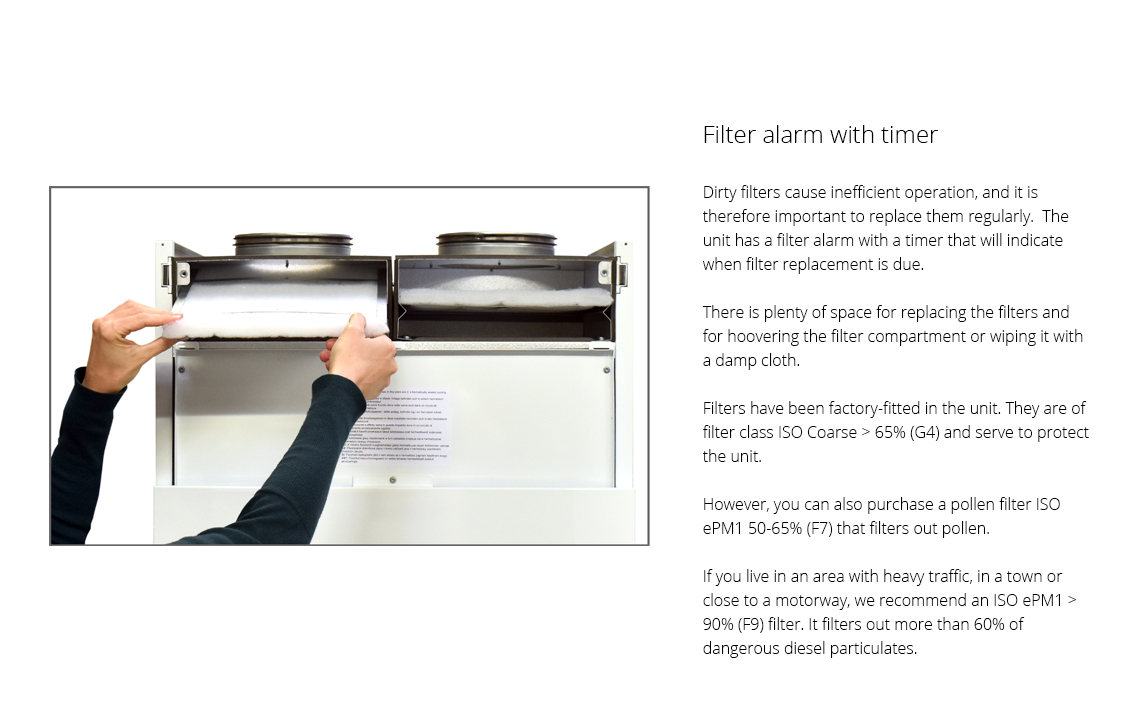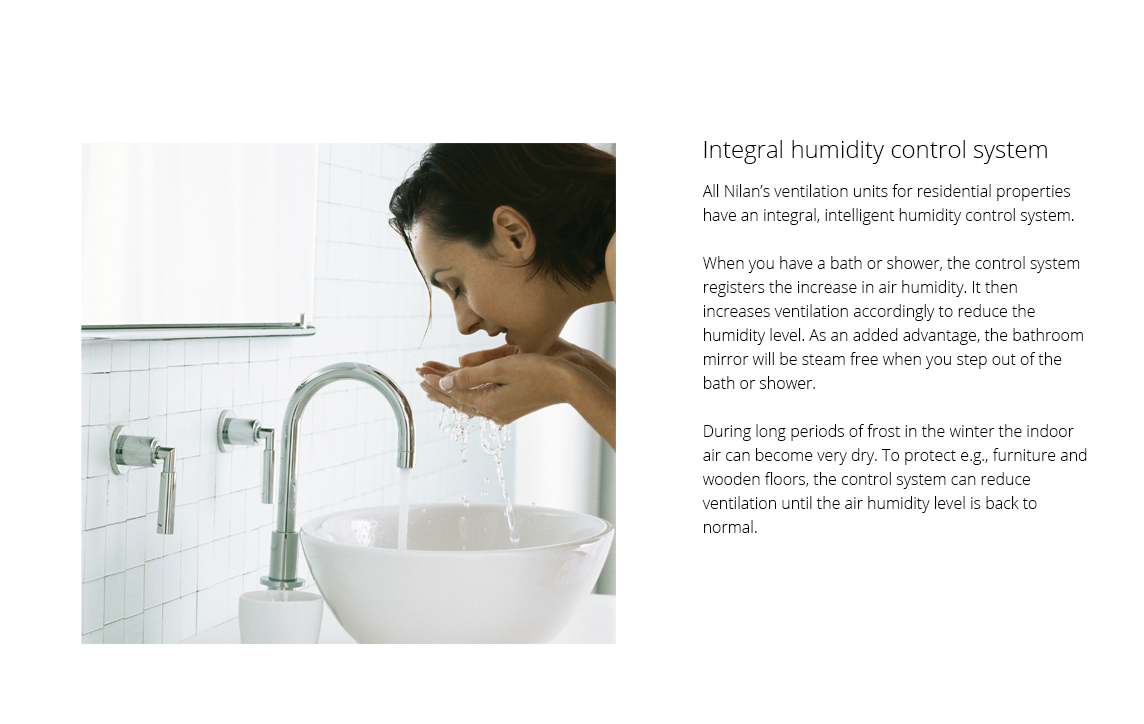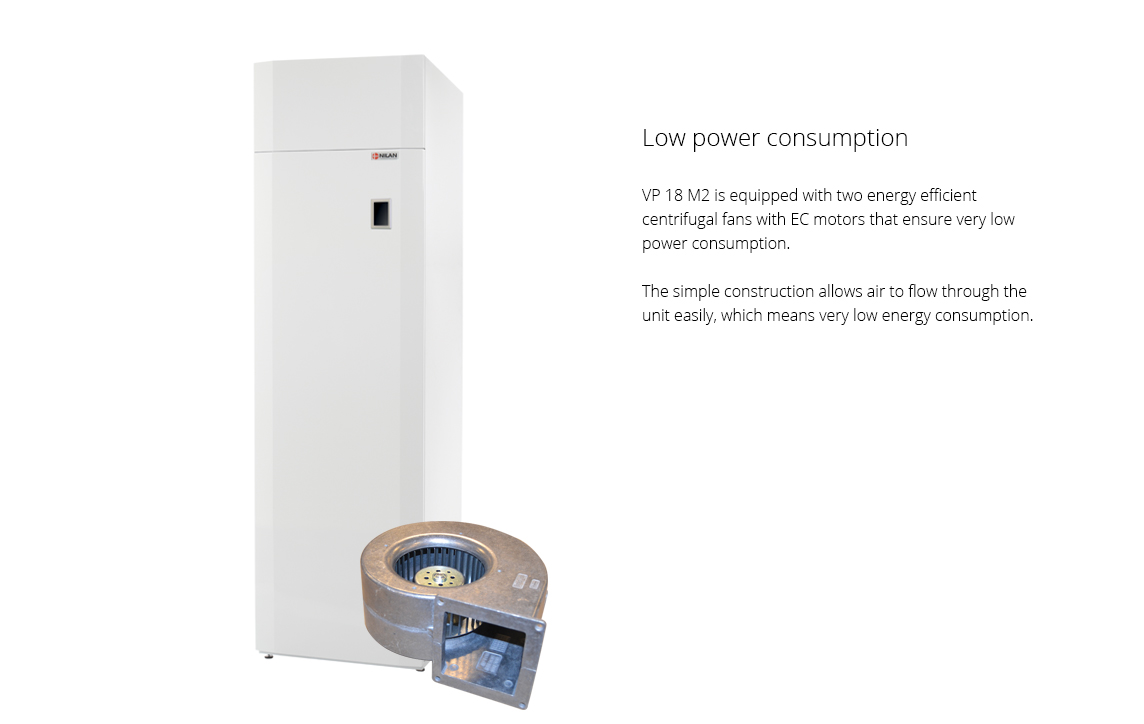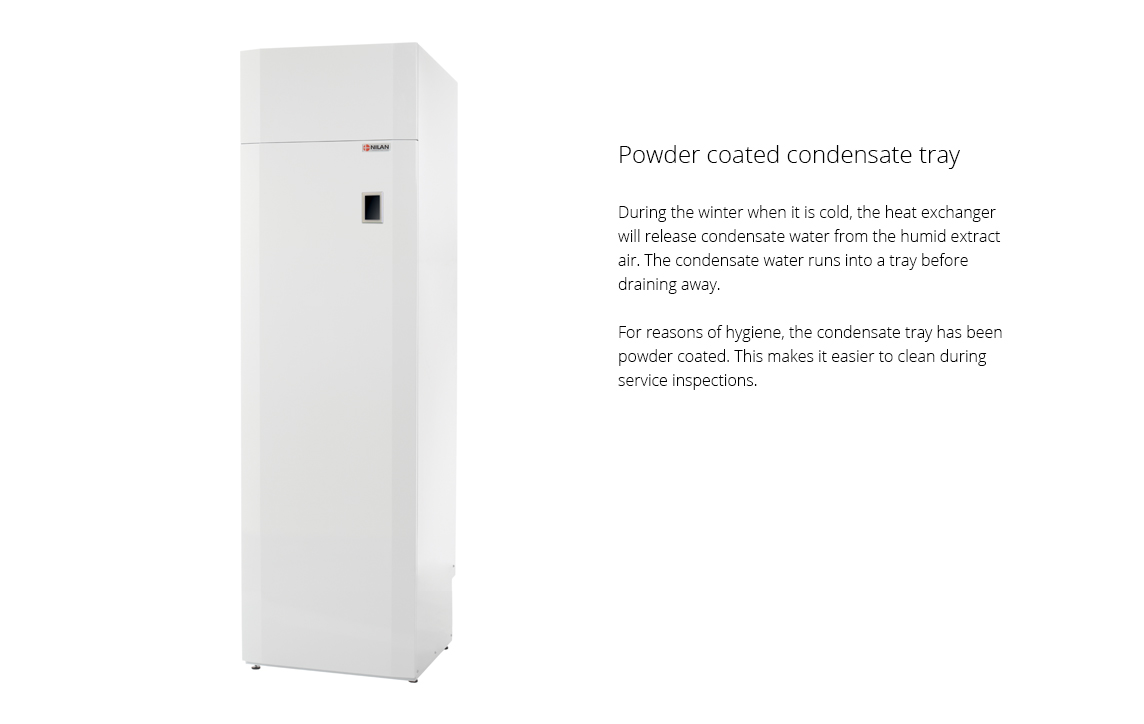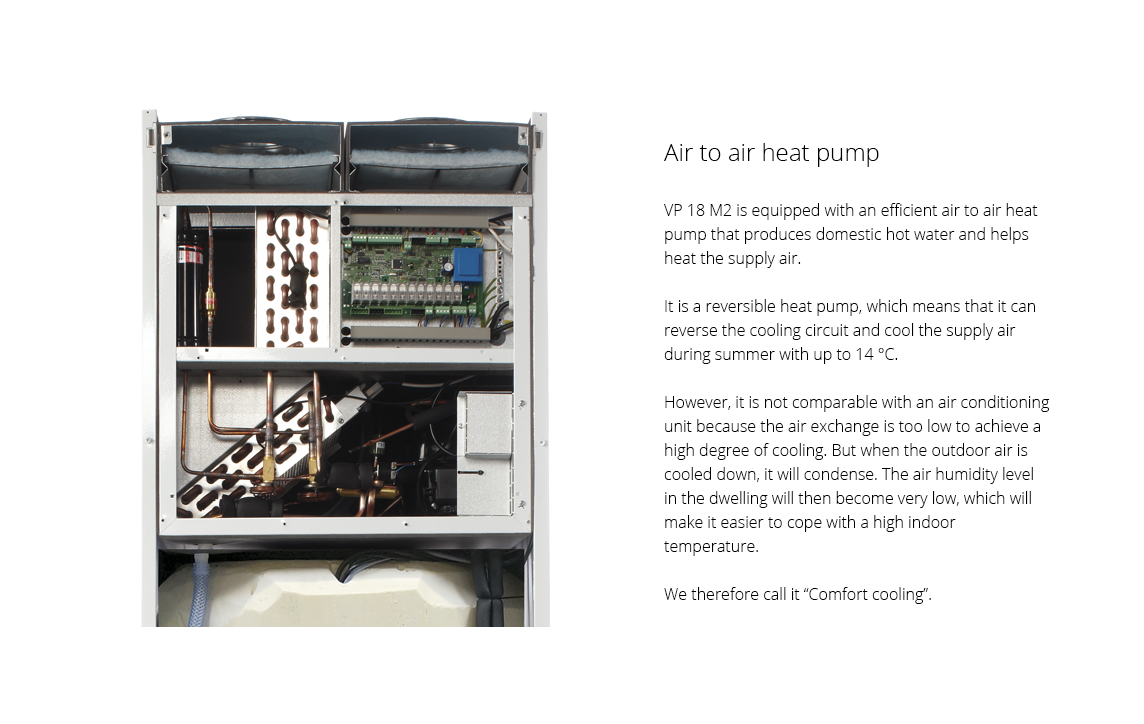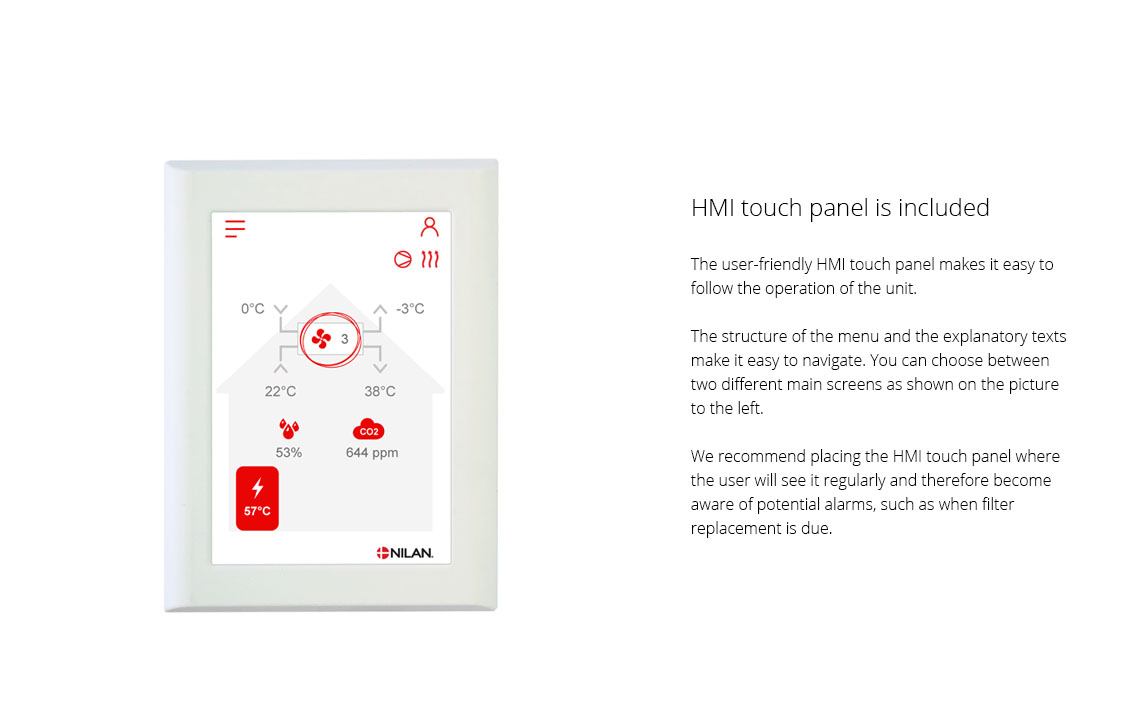 Nilan App - Control the ventilation and heat pump directly from the mobile phone
Nilan has developed an App with great features where the user can control the ventilation and heat pump directly from the mobile phone. The App is intuitive, easy and safe to use, and allows the user to e.g. set the room temperature. More ventilation units can be connected using the same App to control the indoor climate in e.g. both the dwelling and the holiday home. More users can be connected the same App.

When purchasing a Nilan gateway, the user can access the unit via the Nilan App.
VP 18 M2
| | |
| --- | --- |
| Energy efficiency class hot water production | A |
| Consumer profile, water heater | L (large) |
| Hot water tank | 180l |
| Dimensions (W x D x H) | 600 x 600 x 2000 mm |
| Weight | 150 kg |
| Plate type casing | Aluzinc steel plate, white powder coating RAL9016 |
| Compressor type | Piston compressor |
| Fan type | EC, constant rotation |
| Filter class | Greencycle ISO Coarse > 75% (G4) |
| Duct connections | Ø160 mm |
| Refrigerant | R134a |
| Refrigerant filling | 1 kg |
| Condensate drain | PVC Ø20 x 1,5 mm |
| Supply voltage | 230V 50/60 Hz |
| Max. input/power | 2,2 kW / 9,5 A |
| Standby power | 3 W |
| Tightness class | IP31 |
| Ambient temperature | -20 / +40 °C |
| External leakage | < 1,4 % *1 |
| Internal leakage | < 1,1 % *2 |

*1 - At ± 250 Pa and m3/h according to EN 308/EN 13141-7.
*2 - At ± 100 Pa and m3/h according to EN 308/EN 13141-7.
Capacity

Capacity of standard unit as a function of qv and Pt, ext.

SEL values according to EN 13141-7 are for standard units with ISO Coarse >75% (G4) filters and without heating element.

SEL values comprise the unit's total power comsumption excl. control.

Attention! The SEL values are measured and stated as a total value for both fans.

COP (air-air)

Heat output factor COP [-] supply air as a function of outdoor temperature t21 [°C] and volume flow qv [m3/h] in accordance with EN14511 at a room temperature t11 = 21°C

Heat output supply air

Heat output Qc [W] as a function of qv [m3/h] and outdoor air temperature t21 [°C]. In accordance with EN 14511, t11=21°C (extract air).

Heat output is the contribution to room heating added to the fresh air via VP 18 to the supply air.

The ventilation loss is the heat output that is lost without heat recovery at the given volume flow air.

Tapped water

Tapped volume in litres Vmax [L] from VP 18 tank as a function of tapped temperature t [C°] and tank temperature at 40°, 50° and 60°C.

Sound data

Sounddata is for qv = 210 m3/h and Pt, ext = 100 Pa in accordance with EN 9614-2 for surface and EN 5136 for ducts.

Sound output level LWA drops with falling air volumes and falling back-pressure.

At a given distance, the sound pressure level LpA will depend on the acoustic conditions at the installation site.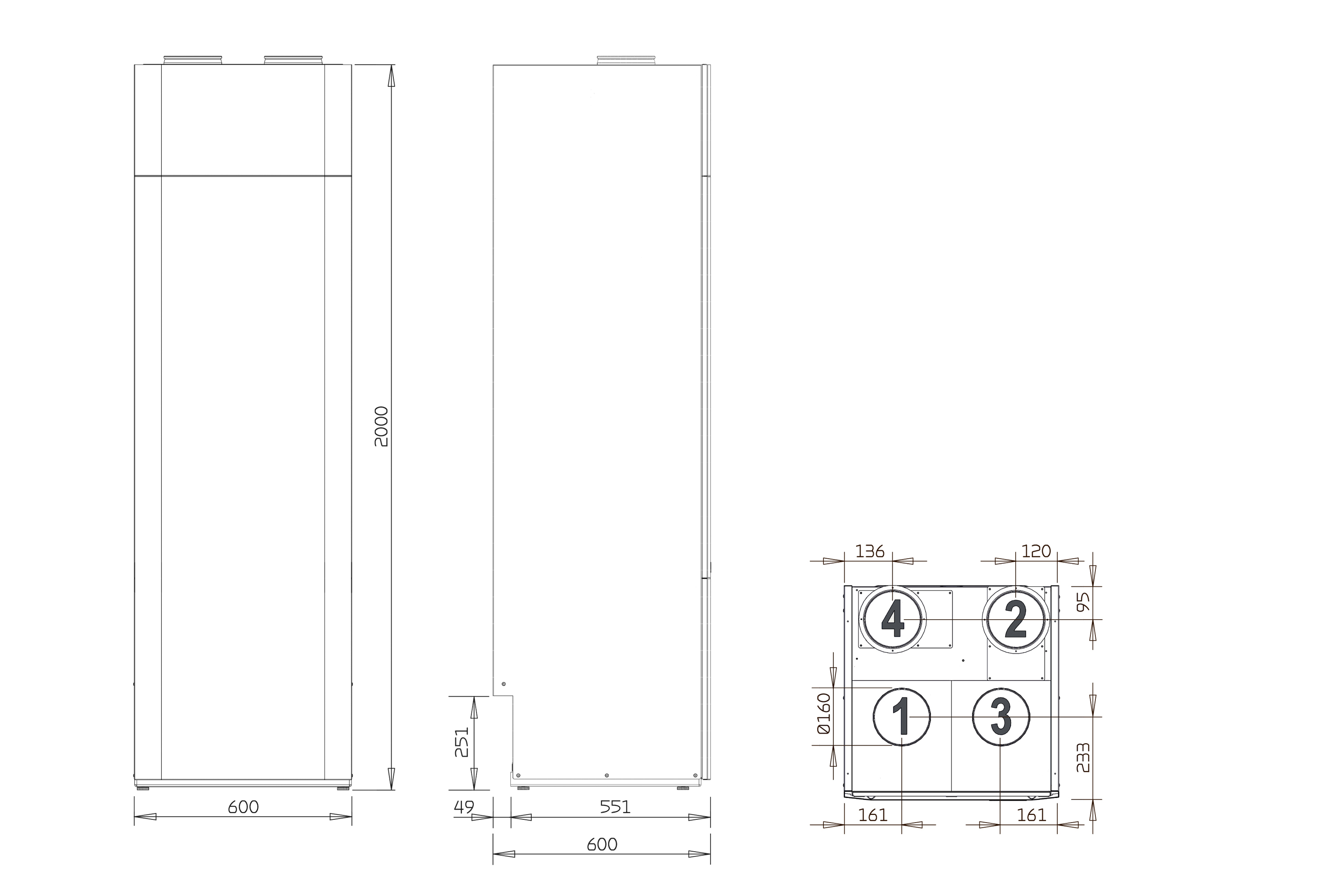 All dimensions are in mm.
Connections:
1. Outdoor air
2. Supply air
3. Extract air
4. Discharge air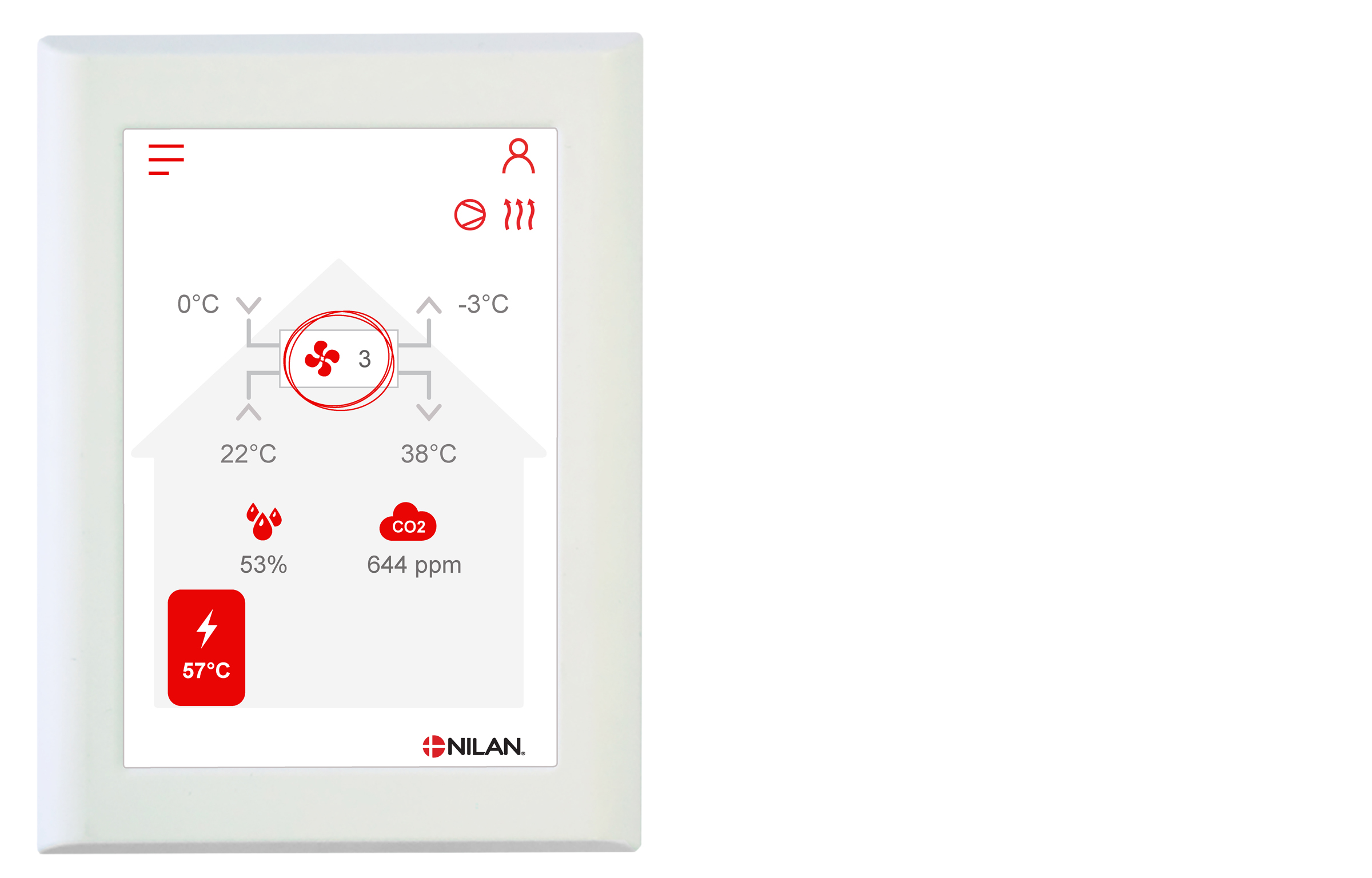 The CTS602 control system is an advanced control system with many settings options. The control system is supplied with factory default settings that can be adapted to the operational requirements in order to achieve best possible operation and utilisation of the unit.
The HMI Touch panel provides an overview of the current operation of the unit, and the structure of its menu makes it easy to navigate for both user and installer.
External communication
The CTS602 control system has an open Modbus RS485 protocol that can be used for communication via external CTS systems.
Functions overview
+Standard
-Tilbehør
Filter monitor
The time controlled filter monitor indicates when filter change is due. You can set it between 30 and 180 days.
+
Operating mode
Can be set to operate Auto in accordance with set values or, alternatively, to operate in heating or cooling mode.
+
Stepless regulation
The four fan speed levels can be set at stepless regulation 20-100% and with different values for supply and extract air respectively.
+
Humidity control system
The integral humidity control system can be set to run with a high degree of ventilation when humidity levels are high (e.g. when you are having a shower/bath). Equally, it can be set to run with a low degree of ventilation if humidity levels in the dwelling become too low.
+
Active cooling
If necessary, you can set the unit to cool the supply air in the summer. When the heat pump is cooling, the heat is stored in the hot water tank. This means that you get "free" domestic hot water when the unit operates in cooling mode.
+ / -
Low outdoor temperature
You can reduce ventilation at low outdoor temperatures to prevent the indoor humidity level from becoming too low.
+
CO2 control system
This allows you to control the fan speed level so it follows the CO2 level in the dwelling.
-
Temperature settings
The control system utilises the temperature settings to regulate operation of the entire unit.
+
Frost protection
The control system has an automatic function for de-icing the exchanger, should ice form within it.
+
Domestic hot water
VP 18 M2 heats the domestic hot water via the air to air heat pump in the ventilation part.
+
Pausing domestic hot water
You can pause the production of domestic hot water e.g. if no hot water is required for a period of time. This saves energy.
+
Frost protection hot water tank
In order to protect the hot water tank, it has been equipped with a frost protection function.
+
Supplementary electrical heating of hot water

If, at times, the requirement for domestic hot water exceeds the ability of the heat pump, you can add a supplementary electric heater to help heat the hot water.

+
Anti-scald safety function
The control system has an integral anti-scald safety function to ensure that the domestic hot water does not get so hot that it potentially scalds the user.
+
Anti-Legionella
The control system can be used to activate an Anti-Legionella treatment of the domestic hot water either manually or automatically.
+
Anode
Electronically monitored anode. It indicates when it needs replacing, which helps extend the life of the hot water tank.
Week program
You can set up a week program with different settings depending on use of the dwelling.
+
User selection 1
You can use this if you want to override the operation of the unit via a potential free signal. It can be used if e.g. a cooker hood has been connected up to the unit.
+
User selection 2
User selection 2 can be used in the same way as user selection 1, but it has an additional output signal that you can use e.g. to control a damper.
+
Event log
This function logs events in the control system, error messages and warnings.
+
Read data
This allows you to read all current values in relation to the operation of the unit. It is most often used for troubleshooting.
+
Emergency stop of ventilation
Do not turn off ventilation as this may cause damage to the unit, the duct system and, potentially, even to the dwelling. It may nevertheless be necessary briefly to turn off ventilation e.g. due to an emergency notification.
+
You can find further information about all the functions in the Software and Installation instructions for the unit.
ATTENTION! When positioning the unit, you should always consider future services and maintenance. It is recommended that you leave a minimum of 60 cm of clear space in front of the unit.
It must be easy to replace filters and it must be possible to replace, for instance, fans and other components.
ATTENTION! The unit must be level to enable proper drainage from the condensate tray.

Connect the ventilation part to the duct system via spouts at the top of the unit.
Connect up the domestic hot water under the hot water tank.